Everyone's Favorite Sex Worker at This Brothel Isn't Human
Brothel employees say "Fanny" has the flexibility to be bent into any conceivable position. Auto-erotic automation, am I right?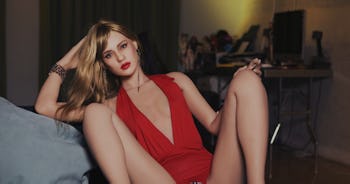 A Plus
Prostitution has been legal in Austria since the 1700s, though the country's sex worker demographics have changed a great deal over the last few hundred years. It was estimated in 2010 that 78 percent of professional sex workers currently employed in Austria were foreign nationals, and it appears that in 2017, at least one of those workers isn't human.
"Fanny," a Japanese-made silicone doll available to the public at the Kontakthof brothel in Vienna, has risen in popularity among the brothel's clientele to the point where she's the number one preferred "partner" in the facility. Two British tabloid papers, The Sun and the Daily Star, have reported on the story, both including the same quote from the brothel's website, which assures users that Fanny is cleaned and disinfected after every sexual rendezvous. When asked exactly how they clean Fanny, the brothel's operator told the Daily Star, "I think that nobody wants to know about this."
That's not actually true, so here's how sex doll manufacturers suggest their customers clean their dolls: many douche their dolls' simulated anal, vaginal, and oral cavities with an "irrigator". The dolls' silicone "skin" can be cleaned with antibacterial soap and water, and its "hair" can be shampooed, conditioned, and styled like human hair. "Renewal powder" is popular among sex doll enthusiasts, but when a doll's "labia" and/or "tongue" become worn out from use, most manufacturers sell replacement inserts. Higher quality companies like RealDoll offer full rehabilitation kits with replacement labia folds and instruments to create your own.
As for Fanny, there's no telling how her human co-workers feel about the fact that her wages — it costs £72 an hour for private time — go straight to the brothel. It's a classic case of what automation does to a human workforce; by removing human concerns from the equation, the brothel, like any other company, minimizes cost. Human sex workers fight infection, they need time off, and they have families and a life outside of work. Sex workers, as the Austrians running Kontakthof pointed out, have hard limits on what sex acts they're willing to exchange for pay. Fanny, on the other hand, can neither consent nor express preference, so she's technically game for anything her customer wants to do to her, including abusive acts (as long as said customer doesn't "damage the merchandise" beyond physical repair).
Perhaps it shouldn't come as a surprise that the most popular "sex worker" at a brothel isn't human — Fanny provides the most satisfying monetary benefit to her "employer," and she services men who want to pay to fuck something lifeless, wordless, and emotionless. On the other hand, studies have shown that men feel more intense sexual pleasure when they believe their partner is having an orgasm. Logically, that experience could translate into relations with a robot who can simulate an orgasm to make a man feel good about himself, but there hasn't been enough research to prove that yet.