Apple Just Leaked a Key iPhone 8 Feature by Accident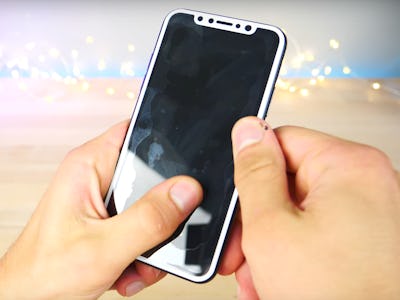 EverythingApplePro/YouTube
Apple, famed for its commitment to secrecy, has inadvertently leaked the iPhone 8. The company released a version of iOS intended for use on the HomePod smart speaker system, set to launch this December, but developers digging through the software found references to an iPhone that doesn't exist yet. Worse, the package contains a diagram of a device that looks like the one appearing in leaks, and it mentions a feature rumored to make an appearance in the next iPhone.
Steven Troughton-Smith, an Ireland-based software developer, stumbled across references to an infrared face unlock system. The front of the device is rumored to include a set of sensors aimed at taking a 3D scan of the user's face to confirm their identity, but reports are mixed on whether this will replace the fingerprint scanner or supplement it. The leak does, however, suggest that Apple plans to include the feature either way.
That's not all. Guilherme Rambo, a Brazil-based software developer, also stumbled across a diagram that looks a lot like leaked devices.
This shape resembles the device as seen in leaked images. The iPhone 8 is expected to pack a 5.8-inch screen in a phone the same size as the 4.7-inch iPhone 7, extending the screen to the far borders by using OLED screen technology to create a non-square screen shape.
The iPhone 8, set to launch 10 years after the first iPhone hit shelves, will be a big release. It's expected to use a vertical dual-lens camera arrangement to offer superior picture quality, alongside a 3D scanner that can detect how far away objects are. The phone, expected to cost over $1,000, will likely launch alongside an iPhone 7S and 7S Plus.
Although set to launch around the same time of the year as the iPhone 8, the HomePod is very different. It doesn't feature a screen and instead uses voice activation entirely to provide information through the Siri voice assistant. The $349 speaker aims to beat the $179 Amazon Echo by offering higher sound quality, although whether Apple can convince buyers to take the plunge remains to be seen.