Charlie Gard's Death: Why People Are Divided About It
The right to live or the right to die?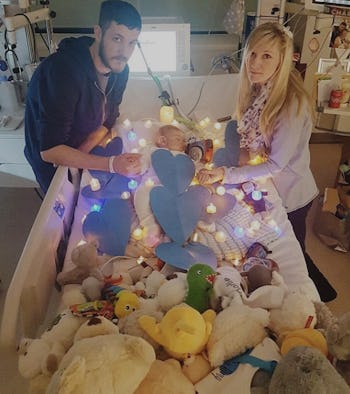 Instagram
Charlie Gard, the British infant stricken with a debilitating genetic disease, died Friday after his parents ended a very public legal battle aimed at keeping the child on life support until he could be taken to the U.S. for treatment.
Connie Yates and Chris Gard's attempts to acquire control of their child's fate from the central London hospital where he was being treated for his disease resulted in a conflict of ethics that divided people in the UK and abroad.
The British infant was born with a rare condition known as mitochondrial DNA depletion syndrome. The condition causes brain damage and loss of muscle function; Charlie could not see, hear, cry, or swallow, and he needed a ventilator to breathe.
After finding an American doctor that was willing to conduct an experimental treatment called nucleoside bypass therapy, the couple raised $1.7 million through crowd-funding to have the child taken to the U.S. for treatment. But Great Ormond Street Hospital refused, stating that there wasn't enough evidence to prove the experimental treatment would do the child any good, and that moving him would only cause him further suffering.
The couple took the case through several courts, eventually landing at Britain's Supreme Court and the European Court of Human Rights, which both eventually backed the hospital's position.
"This isn't about us being selfish, keeping him alive because we can't bear to let him go," Yates told the Daily Mail. "It's because if we did not fight for this chance, we will have to live with the 'what if' forever."
The "what if" factor also drove people following the legal battle to action; a petition asking for Charlie to be flown to the U.S. gathered 350,000 signatures. President Donald Trump and the Pope both made public statements offering their support for any possible solution to Charlie's tragic condition. Republicans also offered vocal support to the family. On July 18, the House Committee on Appropriations voted unanimously to approve an amendment granting permanent residency to Charlie, in order to accommodate the parents' wishes to bring him to the U.S.
Great Ormond Street Hospital's doctors and nurses also reported receiving death threats from those opposed to the hospital's position throughout the legal battle.
However much some members of the public appeared to be on the parents' side, medical experts and the courts continually asserted that Charlie's recovery was unlikely, and that moving him to the U.S. was futile. A medical expert in mitochondrial diseases from Southampton University who was acquired for a second opinion supported the hospital's claim that there was nothing left to be done. In their rejection of the parents' appeal, the European Court of Human Rights in Strasbourg, France said:
"The domestic courts had concluded, on the basis of extensive, high-quality expert evidence, that it was most likely Charlie was being exposed to continued pain, suffering and distress and that undergoing experimental treatment with no prospects of success would offer no benefit, and continue to cause him significant harm."
In July, Dr. Michio Hirano, the neurologist at Columbia University who had offered Charlie's parents a ray of hope, confirmed upon examining Charlie in person that his treatment would prove futile. A series of scans showed that the infant had suffered muscular atrophy and that Hirano's treatment — which had never been tested on a child with Charlie's specific genetic disease — would prove futile. It was at this point that Connie Yates and Chris Gard abandoned their fight to have the child moved to the U.S.
During the court procedures, Great Ormond Street Hospital tried to make it clear that their intention was to minimize any suffering on behalf of the infant.
"We deeply regret that profound and heartfelt differences between Charlie's doctors and his parents have played out in court over such a protracted period," the hospital said in a statement. "We will never do anything that could cause our patients unnecessary and prolonged suffering."