Facebook's Mission is Underscored by CEO's Square-State Sojourns
Zuckerberg's clearly read 'Bowling Alone'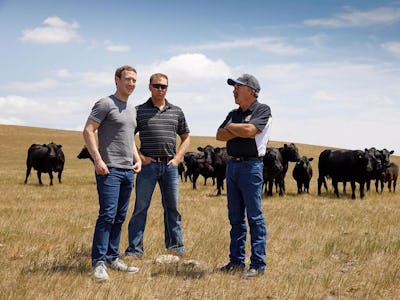 Much has been made of Facebook founder Mark Zuckerberg's goal of visiting all 50 states this year. He's sat down for supper on Midwestern farms, fished the cold waters of Alaska (and endorsed basic income), and denied that he's running for president along the way. But what good does it do for Facebook, wonder investors eyeing Facebook stock. What's Mark doing out there, glad-handing with Americans, instead of, you know, working to make Facebook more profitable?
It was a question he addressed this week during the company's second-quarter financial earnings conference call. Between questions about monetizing Messenger and how Facebook's leaning hard into video in the next couple years, Zuckerberg said Facebook was also addressing a bigger problem that is "eating at the social fabric" of communities here and abroad.
"There's been a clearly documented trend across the world of declining membership in a lot of different kinds of communities," Zuckerberg said Wednesday on the earnings call. "That's an important problem that is eating at the social fabric, of not only of our country, but around the world, that I hope that we can play a role in addressing."
Zuckerberg's sojourns to the square states and other areas of "flyover country" link directly into how Facebook wants to serve the 2 billion active users (1.3 billion of which get on Facebook daily) so they can have a platform to socialize and organize.
Bowling Alone, the landmark 2000 book by Robert Putnam that examines collapse of social organizations — the ones that meet IRL, like bowling teams, fraternal organizations and neighborhood clubs — is perhaps the most famous report on the problem which Zuckerberg hopes to solve with Facebook.
"I believe that we can empower people who want to build local communities and want to play a leadership role in their local community to have the tools that they need," he said Wednesday.
Those tools he speaks of come down to everything included in Facebook Groups, which became a lot more powerful recently. They now include analytics about member engagement, demographic filters, banning capabilities, and post scheduling. Naturally, with more data on who's active in groups, Facebook would be able to target ads to those people as well as empower them to make positive changes in their community. The company launched a stand-alone Facebook Groups app June 22, the same day as its first-ever "Facebook Communities Summit."
While Zuckerberg's trips have created their own news cycle this year, most of it positive, not everyone has been so enamored of the CEO's trips away from Silicon Valley:
A striking story in The Guardian published this month details the life of Nicole and Victor, who work in the Facebook corporate cafeteria and who live in a two-car garage in Palo Alto with their two children, a few miles from Zuckerberg's mansion. "He doesn't have to go around the world," Nicole told Julia Carrie Wong of The Guardian. "He should learn what's happening in this city."
Zuckerberg's state trips usually are revealed via his Facebook posts after the fact, so it's not clear where he's headed next, but his last was on July 16. He visited the Blackfeet Indian Reservation in Browning, Montana. He saw poverty there, and was struck again by a theme which he's come back to: people should have room to take risks. That may mean basic income.
"If people have the freedom to do what they want — whether that's taking a chance on a new idea or building their community — the inherent creativity and goodness in people will help different parts of society flourish," he posted on his own Facebook page.
And if that freedom to innovate germinates within a Facebook Group, all the better for investors.