'Suicide Squad' Director Teases He's Not Done With Harley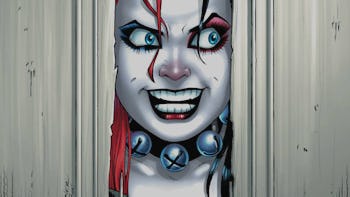 DC Entertainment
It's been a little while since anyone has heard from Warner Bros. about its Harley Quinn-led Suicide Squad spin-off movie Gotham City Sirens. But, during the wee hours of Thursday morning, Suicide Squad director David Ayer tweeted the cover of Amanda Conner's Harley Quinn #21 with no caption or text. Maybe Ayer was in a bizarre mood at 2:44 a.m. Or maybe he was hinting at a return to the DC Extended Universe.
Or, perhaps, Ayer was just pushing back against some rumors.
Earlier this week, Mashable reported that Ayer's further involvement in the DC movie universe "is now in question" after Gotham City Sirens was left off the studio's list of nine movies in development (new movies included Green Lantern Corps, Flashpoint, and Shazam!). Throughout most of the fall and winter of 2016, after Ayer's Suicide Squad received a mixed reaction, talk of Gotham City Sirens began to circulate the internet with Ayer close to the project, even expressing enthusiasm for it.
But for most of 2017 thus far, anything regarding Gotham City Sirens has been quiet, which lent credence to Mashable's report. But with Ayer sharing a rather disturbing close-up of Harley (doing her best The Shining impression), perhaps Ayer is letting DC fans know that he isn't going anywhere.
See Ayer's tweet below.