SpaceX Will Be First Rockets To Go All-Reusable
Other cargo capsules are destroyed in the atmosphere.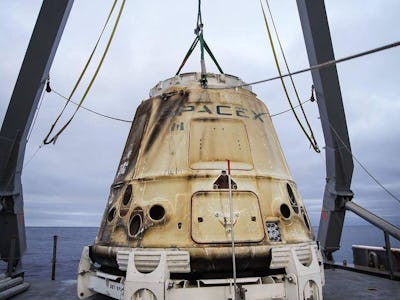 NASA
NASA has announced the Dragon cargo capsules that sit atop SpaceX's Falcon 9 rockets will be recycled after every mission. Since the rockets themselves already return to Earth ready for future missions, the move makes SpaceX the first space program to go all-reusable.
At a NASA advisory meeting on the International Space Station this week, ISS director Sam Scimemi announced August 18 will be the last time SpaceX launches a new Dragon capsule into Earth's orbit. Following that launch, NASA will collect scorched Dragon capsules from the ocean and transfer them to SpaceX, where they will be prepared for their next space station resupply mission.
This is the next step in SpaceX's plan to dramatically reduce the cost of missions into space — whether with people or cargo — by reusing expensive space vehicles. In early June, SpaceX proved that its Dragon spacecraft can be successfully reused. It launched a Dragon capsule filled with scientific equipment (including a fruit fly lab) that had been previously launched in 2014. When the capsule returned to Earth for the second time, it splashed into the ocean with over 4,000 pounds of ISS research-related cargo.
Unlike the Dragon capsule, other cargo capsules are destroyed in the atmosphere, with their debris falling into Earths' oceans. The Cygnus capsule, developed by the American company Orbital ATK, is filled with waste and then sent plunging into the atmosphere to be intentionally destroyed. Both the Russian capsule Progress and the Japanese Kounotori are also designed for single use, detaching from the space station and burning up during their heated atmospheric descent.
In their endeavor for nearly complete re-usability, SpaceX, might be putting an end to a curious type of "shooting star": Waste-filled space-capsules, burning up the atmosphere.