Russos Say 'Infinity War' Will Make Thanos the New Darth Vader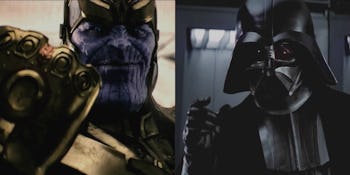 Marvel Entertainment, Lucasfilm
Thanos plans to destroy a planet but, unlike his personal hero, he won't be doing so in a stylish black cape. Joe Russo, who will co-direct Avengers: Infinity War alongside his brother, Anthony Russo, recently said Marvel plans to tap into the megalomaniacal energy of Darth Vader, undoubtedly one of the most iconic villains in cinematic history, to make Thanos truly terrifying.
"The stakes are incredibly high," the singular Russo brother told Comicbook.com. "I wanted to turn Thanos into Darth Vader for a new generation. He's an incredibly intense character. Sociopathic. He takes no prisoners. I think the audience needs to be prepared when they go see these movies."
Turning a villain who's been little more than a looming threat so far in the Marvel Cinematic Universe into the "Darth Vader for a new generation" isn't going to be easy, especially in the span of a 2-hour film already packed with beloved characters. And especially when there are 67 (yes, 67) of those beloved characters.
Plus, wasn't Kurt Russell's Ego the Living Planet in Guardians of the Galaxy Vol. 2 kind of already the Darth Vader of the MCU? The power-hungry evil-doer turned out to be the hero's father and wanted the son to join his great empire and help him rule the galaxy — sound familiar?
Yes, there's no doubting that Thanos will be iconic, especially if Marvel sticks to any of its comics canon for Infinity War, but fans will have to wait and see whether or not he lives up to Vader's standards.
Avengers: Infinity War will premiere in theaters on May 4, 2018.