Four Bets You Can Make on Donald Trump Right Now
Online gambling websites are turning the Trump Presidency into a game. Care to play?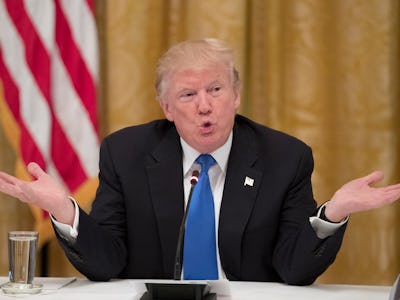 Getty Images / Pool
While Congress gambles with the medical futures of the millions of Americans covered by Medicaid under the Affordable Care Act, regular citizens can do some gambling of their own and place bets on what's going to happen to President Donald Trump next.
Online gambling sites like Paddy Power and Ladbrokes offer players the chance to place bets on Trump's often unpredictable actions.
These odds are offered alongside sports pools like football and horse racing, or bets on the British political arena.
If the fact that Donald Trump is the president of the United States and (arguably) leader of the free world somehow makes you feel lucky, we've rounded up four of the strangest sets of odds that you can bet on.
Chaos reigns.
1. Trump Will Be Impeached or Resign Before the End of His 1st Term
Odds — 11:10
Gamblers stand to earn a pretty nice chuck of change through Ladbrokes if Trump resigns or is impeached before he finishes out his first term as president in 2021. Apparently the odds on this premature evacuation didn't shift much even after the Donald Jr. email release.
But it remains to be seen if odds will change in the wake of news that the Senate Judiciary committee subpoenaed former Trump campaign chief Paul Manafort, and the rumors of a White House staff overhaul in progress.
2. Trump Will Open Area 51 to the Public
Odds — 33:1
You can place a bet at Paddy Power on one of the only Trump administration policies that could be termed "sick" in the positive sense. This writer cannot deny that it would be extremely cool to take a tour of Area 51, America's spookiest Air Force facility.
Ultimately, however, the odds on this one seem pretty slim. Trump hasn't really mentioned extraterrestrial aliens, despite his administration's overtures to space exploration, whereas opponent Hillary Clinton was more open to the idea that the truth is out there.
Trump Won't Seek Re-election
Odds — 2:7
According to Ladbrokes, these odds point to Trump declining to seek a second term as president.
This seems like a reasonable conclusion to draw given how unhappy being president seems to have made Trump. He openly reminisced about his "old life" in an interview in late April, and Melania probably isn't psyched that she had to finally move down to D.C., no matter how cheery her tweets seem.
4. Trump Will Ban Stairs
Odds — 500:1
So, okay, this probably isn't going to happen. There are plenty of reasons to hate stairs, for sure- for most people, they are not as easy to go up and down as an escalator or elevator. For many people, they render various locations completely inaccessible. Plus, you can trip up or down them. Double the danger and half of the fun.
But what exactly would a ban against stairs constitute? No more new sets of stairs? The destruction of all existing sets of stairs? It just doesn't seem feasible, but if you're so inclined you can put money down on Paddy Power anyway. For comparison's sake, you can also bet that Trump will ban abortion (3:1) or gay adoption (7:1) where you'll be more likely, unfortunately, to see monetary results.