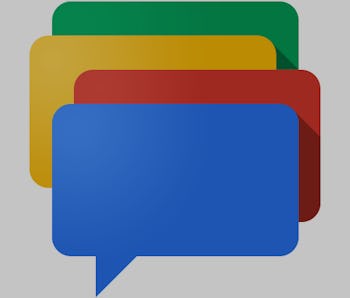 Innovation
Google's Messaging App Got a Cartooning Upgrade and We All Know What's Gonna Happen Next
The Google Hangout messaging app, an evolution from the more pedestrian Gchat, is pushing the boundaries of how we communicate in a digital world. Recent additions include a flock of new emoji, a Paint-esque doodling tool, and a yellow homunculus that laughs manically when you type "hahahaha." But now we witness the true power of a fully armed and operational Hangout: The ability to create heartfelt works of art, elevating Google's stickers beyond simple cartoons into expressions that were heretofore uncommunicable in a less technologically advanced age. 
In other words, users can now draw dicks on things. And if you think that we're just being dirty minded, you need to read up on psychology. We can't help it.
As the renaissance masters and Superbad knew, nothing is more more aesthetically compelling than biologically implausible genitals.