Teen Dumbledore Says 'Hogwarts Is Lame' in 'Conan' Audition Skit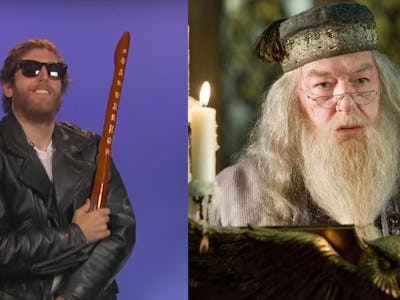 TBS,  Warner Bros.
The storied headmaster of Hogwarts, Professor Albus Percival Wulfric Brian Dumbledore, was once a student and rebellious teen, despite his advanced age throughout J.K. Rowling's Harry Potter series. And in anticipation for the upcoming, as-yet-unnamed sequel to 2016's Fantastic Beasts and Where to Find Them, late night host Conan O'Brien decided to help the Potter powers that be out by holding "auditions" for a teenage Dumbledore.
Conan gathered a host of stars from across various television shows and movies to "audition" for the role of teen Dumbledore. The Dumbledore hopefuls included "28-year-old" Nick Offerman (Parks and Recreation), Aubrey Plaza (Parks and Recreation, Legion), Patton Oswalt (Mystery Science Theater 3000: The Return), Thomas Middleditch (Silicon Valley), two versions of Tatiana Maslany (Orphan Black), and Frankie Muniz (Malcolm in the Middle).
The results are appropriately hilarious, with most of the stars donning beards and maroon robes. Oswalt, insecure about auditioning after Offerman, ranted about wands being similar to cell phones while Middleditch donned a leather jacket and sunglasses to highlight Dumbledore's wilder side. Maslany, true to her Orphan Black roots, showed up twice within the same frame to play alternate versions of herself.
Warner Bros. announced Jude Law's casting as the young adult version of Dumbledore back in April, so, obviously, Conan felt the need to cast a teenage Dumbledore for the inevitable flashbacks.
Seeing as Law will play opposite Johnny Depp's young Gellert Grindelwald — with the script potentially alluding to the characters' romantic past and Dumbledore's pining — it would make sense for mentions of their teen years to come up. Though, there's still no word on exactly what to expect from the film; details are scant.
The unnamed Fantastic Beasts and Where to Find Them sequel is expected to premiere in theaters on November 16, 2018.