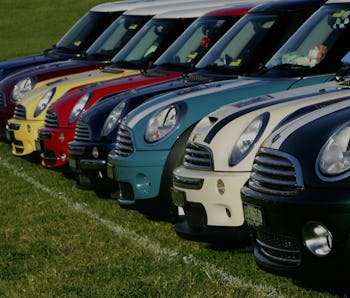 Innovation
BMW Just Revealed When the Electric Mini Will Enter Production
Getty Images / Sergio Dionisio
The all-electric Mini is coming. On Tuesday, the BMW Group announced the three-door car will enter production in 2019. It forms part of the company's grand strategy to use a flexible vehicle architecture across its product lines, meaning that every brand and model the company makes is open to electrification.
The new Mini's drivetrain will be produced at the Dingolfing and Landshut plants in Bavaria, before shipping over to Oxford for integration into the car. Oxford will serve as the car's primary production location.
"BMW Group Plants Dingolfing and Landshut play a leading role within our global production network as the company's global competence centre for electric mobility," Oliver Zipse, BMW AG Management Board member for Production, said in a statement. "Our adaptable production system is innovative and able to react rapidly to changing customer demand. If required, we can increase production of electric drivetrain motor components quickly and efficiently, in line with market developments."
Although electric vehicles usually call to mind the likes of Tesla and Nissan, BMW claims to have the widest range of electrified vehicles in the world, with nine already on the road. By the end of the year, it expects to have sold 200,000 electrified vehicles in total, a category that covers both all-electric cars and plug-in hybrid vehicles.
BMW is not stopping there, though. By the year 2025, it expects electrified vehicles to account for between 15 and 20 percent of overall sales. The company plans to launch the BMW i8 Roadster next year, the all-electric BMW X3 in 2020, and the BMW iNext for 2021.
The company has big plans to build future technologies into its vehicles. In February, the company announced a new partnership with autonomous car chip maker Mobileye to build its data mapping technology into cars starting from 2018. Mobileye, which until October was powering Tesla's semi-autonomous Autopilot system, will use the maps to create a full self-driving car system.
When asked about the company's plans to bring autonomous technology to the Mini, a BMW spokesperson told Inverse that the company will release more information about the car over the course of this year.