Google Says Gmail, Maps, and YouTube Now Have Even More A.I.
Email, photos, YouTube, and more all got major machine-learning updates.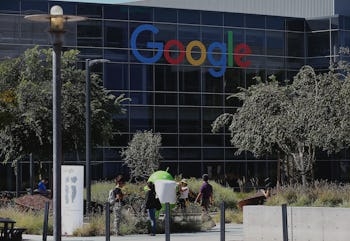 Getty Images / Justin Sullivan
Like pretty much every other tech company, Google is going all-in on A.I. and machine learning, inserting the self-teaching technology into pretty much every one of its major projects, a trend that only continued in the last three months.
Four of Google's biggest products — Maps, Gmail, YouTube, and Google Photos — have received updates utilizing machine learning, said Google CEO Sundar Pichai during the earnings call for Alphabet (Google's parent company) on Monday.
"Google has always been about using deep computer science and insights to solve some of the world's most complex problems," Pichai said. "Our ability to rapidly deploy the best machine learning in all of our products enabled us in this quarter to launch all sorts of new, smart features."
Some of the changes may be subtle, but Pichai said that the company sees future applications of deep learning essentially letting it adapt and change its products faster than human programmers thinking of one problem at a time would be. For reference, here's a brief overview of some of the subtle changes made in those four key products.
Google Maps Reads Street Signs
In May, Google's research team announced that it had been studying street view images with a new deep-learning tool to read street signs with far greater accuracy (and in different languages).
Gmail Spam Filter Nears Perfection
At the end of May, Google also announced that its Gmail spam filter had gotten almost perfect at blocking spam and phishing attempts, thanks, for the most part, to machine-learning algorithms that could make comparisons between spam emails and recognize similar patterns.
YouTube Automatically Subtitles Videos
Google is using various machine-learning techniques on YouTube, but most recently the company's automatic subtitle feature learned how to recognize sound effects and accurately caption them.
Google Photos Recognizes People
Google's worked machine learning into Google Photos in a couple of different ways, but at the I/O developer conference in May, the company announced a few cool updates. Machine learning-powered image recognition software now gives you automated sharing suggestions when you take a picture, recognizing people you've shared similar photos with and suggesting you do it again. That's pretty crazy to think about, honestly — imagine Google knowing who you tend to send dog pics (or more explicit options) to and suggesting you share it again. Google's new Lens product (basically Google Glass 2.0) uses similar image recognition software, so the company's innovations in one product are rarely limited to that branch.
The Cold, Hard Cash
Pichai's comments made it clear that Google sees applications of machine learning as being central to the company's future.
Alphabet announced that it had made $26 billion in revenue during the second quarter of 2017, a 21 percent increase compared to the first quarter of 2016. The company announced that it had made $6.3 billion in income, even after a costly $2.7 billion fine from the European Union, which claimed that some aspects of Google's shopping results were anti-competitive because their algorithms appeared to favor certain companies.
The announcement followed a consistent trend of Alphabet basically making a ton of money — in the first quarter of this year, Alphabet posted $24.75 billion in revenue, a 22 percent increase from the same three months of 2016. In the same announcement last year, the company also punctuated its earnings with the news that Google had big plans for Waymo, eventually hoping to integrate its self-driving car technology into public transportation networks. Going back further, in the fourth quarter of 2016 Alphabet also posted over $26 billion in revenue, and after a solid start to 2017, most analysts expect the company is going to keep those strong numbers going.