Uber Partners with McDonalds to Deliver Free Sweatpants This Week
Unlock new achievements of your casual lifestyle on McDelivery Day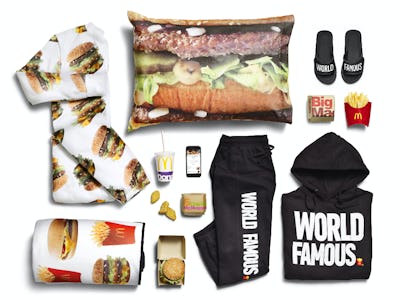 As a way to drum up interest in its Uber Eats app, Uber has partnered with McDonald's to gift free McDonald's branded leisure wear to customers who — to use a hypothetical, order twenty chicken McNuggets, large fries, and a Diet Coke — are hungry but don't quite want to leave their chair.
Essentially, on Wednesday, Uber might deliver you sweatpants to wear while you eat McDonald's (in select cities, while supplies last). There are also hoodies, adult onesies, slide-on sandals, and a pillow with a high-res Big Mac screen-printed on it. There are comments to be made here, but people on Twitter are pumped.
The promotion is called "McDelivery Day" and it's happening in select cities — no list is public right now — in the United States, Australia, the United Kingdom, France, Poland, Canada, New Zealand, Hong Kong, the Netherlands, and Japan.
Uber Eats began delivering McDonald's in January during a pilot program in Florida with more than 200 restaurants. McDonald's found consistent growth as "customers experienced the convenience of having their McDonald's favorites delivered in a modern and progressive way."
The clothing designs take their cues from streetwear — bold colors, all-over print, "World Famous" in a sans-serif typeface emblazoned on the front of a hoodie — and embrace the irony in crassly commercial styles popular right now. These are clothes made for the internet:
Here's how to get your own McDonald's sweatpants on McDelivery Day, Wednesday, June 26.
1. Download the Uber Eats App
2. Order McDonald's after 11 a.m. local time. (McPick 2 and other offers excluded from delivery.)
3. Pray for sweatpants.
4. In the event sweatpants don't arrive, check eBay.