The Da Vinci of MS Paint Begs Microsoft Not to Kill It
Pat Hines is one of the most brilliant artists to use the pixel-drawing software.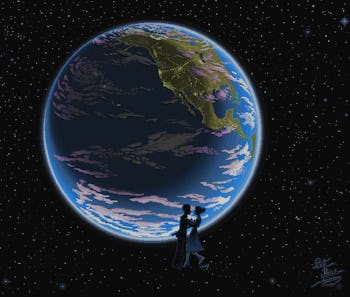 Pat Hines
Microsoft is rolling MS Paint into the more complex Paint 3D software, and removing it from the stock set of programs that come with Windows 10. Folks who want to use it will have to download it (free) from Windows Store.
Microsoft put out a statement Monday evening encouraging people not to think of this as Paint's death, writing, "MS Paint is here to stay, it will just have a new home soon, in the Windows Store where it will be available for free."
Here's how one of Paint's most talented artists responded to the news.
Pat Hines, a 34-year-old illustrator from Boston, creates beautiful, stylized images using the pixel drawing software Microsoft introduced in 1985. When news broke Monday that Paint would disappear from stock Windows, Hines shared an article to his Facebook page with the comment, "NO NO, NO, NOOOOOOOOOOO! @Microsoft please reconsider!"
Hines got widespread attention for his work with the bare-bones application this year, after some drawings he shared to Imgur went viral. But he's been working seriously in MS Paint for at least 15 years — since he picked it up as a way to while away hours during a gig as a nighttime security guard at a nursing home.
He said the demise of MS Paint won't hurt him too much personally (he's got several versions of the software saved), but he thinks it's bad news for the next generation.
"It made me sad," Hines told Inverse Monday, "especially for younger kids, because it is such a fun training ground for future digital artists."
When Hines didn't have access or the technical skills to use Photoshop or other high-end illustration software, Paint offered him a creative outlet. He said he discovered that he enjoyed its particular limitations, and that the challenge of working within them sparked his crea tivity.
Children, he thinks, should benefit from the same opportunity.
"A little kid isn't going to start using Photoshop right off the bat. It's just a nice, charming little program that you can make quick stuff in, silly pictures," he said.
"Or, if you put the time and effort in, you can create — I think — pretty good pieces."
Hines said it can take him a couple weeks to complete one of his images using Paint's limited tool. His more detailed, realistic artworks can take even longer.
Hines is part of a group of artists that provide feedback to Microsoft on the creation of one of their new art tools, but receives no payment for the work and is not an employee of Microsoft.
You can find more of his art on his DeviantArt page, as well as on Facebook.
Here's the full statement from Microsoft
Today, we've seen an incredible outpouring of support and nostalgia around MS Paint. If there's anything we learned, it's that after 32 years, MS Paint has a lot of fans. It's been amazing to see so much love for our trusty old app. Amidst today's commentary around MS Paint we wanted to take this opportunity to set the record straight, clear up some confusion and share some good news:
Paint 3D – the new app for creativity, also available for free with the Windows 10 Creators Update, will continue to get new feature updates. In addition to the new 3D capabilities, many of the MS Paint features people know and love like photo editing, line and curve tools, and 2D creation are in Paint 3D.
So, thanks for all the MS Paint love, keep the feedback coming via the Paint 3D app, and keep creating!
This post has been updated as of 12:45 PM Eastern on July 25, 2017 to clarify the fate of MS Paint.