'Rick and Morty' Episode 2 Will Feature BDSM Apocalypse Warriors
Things are about to get sexy ... kind of.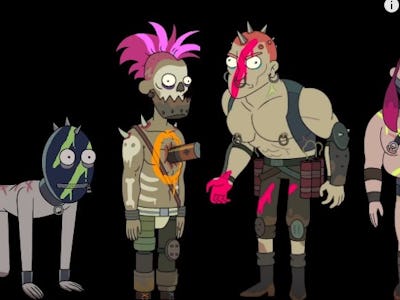 In a new behind-the-scenes sneak peak of Season 3 Episode 2 of Rick and Morty, animators admit that things are get painful, funny, and maybe a bit sexy … depending on your preferences.
The episode will take place in a "diesel-powered vehicular field of death and nihilism," according to co-creator Dan Harmon. Sound familiar? The show has a history of somehow spoofing and simultaneously paying homage to the greatest of sci-fi and horror films, and this episode's target is of course the universe of Mad Max.
But leave it to the animators and writers of Rick and Morty to conceive of something that actually far more twisted than everyone's favorite Mel Gibson vehicle and feminist reboot (right?).
"Assume this is a world where shit went down in the '90s," says character designer Elisa Phillips. "And this is the result of it. '90s punkers, and stuff like that. And of course just like Mad Max gives a hint of it. We really played up the BDSM gear."
"That's what it's all about, man. They're gonna be wearing masks and spikes and chains, and exposed muscles and things tight around their body parts," says writer Ryan Ridley. "Go back to the primal when it's post apocalypse; sex and violence and how they intertwine."
Sounds fun.
Watch the sneak peak below:
Episode 2 of Rick and Morty will air July 30 on Adult Swim.