How Noah Hawley's 'Doctor Doom' Could Connect to 'Deadpool'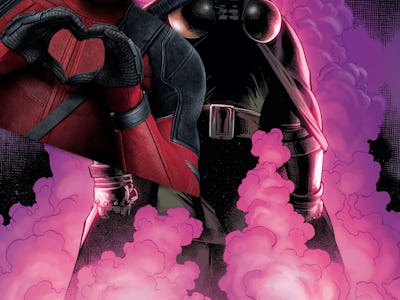 Marvel Entertainment, 20th Century Fox
Marvel's First Family may not be in the limelight anymore, but that doesn't seem to be stopping 20th Century Fox from trying. This week, at the end of the panel for FX's Legion at San Diego Comic-Con, showrunner Noah Hawley announced he was developing a new film for Fox. He wouldn't say exactly what he's working on, be he did give a painfully obvious clue. "I'll just say two words," he said, "The first one is Doctor and the next one is Doom."
Hawley's reference to Fantastic Four villain Doctor Doom hints at oh so many things: Fox could be working at yet another Fantastic Four reboot, or Fox has given Hawley the go-ahead to create a movie all about Doctor Doom. Either makes zero sense, but it does show Fox's faith in Hawley, who has created such acclaimed shows like Fargo and Legion.
But now that Fox is in full swing with its revived Marvel universe, is it possible that Doctor Doom could be connected to its red-hot Deadpool franchise?
Here's the thing: However oblique, the recent Fantastic Four reboot from Josh Trank was supposedly set in the X-Men continuity. An email from producer Simon Kinberg to the New York Daily News said that wasn't the case, but if the 2015 Fantastic Four was a big hit you know Fox would be trying hard to include them with the X-Men. And while a new Fantastic Four movie is a risky venture, there is no possible way Fox is considering a solo Doctor Doom movie without Reed Richards and friends. There's just no way.
So in regards to whatever Hawley is planning, it cannot be a standalone Doctor Doom movie because why? Especially now with Fox's renewed confidence in its mutant properties with Deadpool, Logan, Legion on FX, and upcoming projects like The Gifted on Fox and New Mutants from director Josh Boone.
Maybe Deadpool won't be in a Fantastic Four movie, but with how loose Fox has made its shared mutant universe, one can be sure that the Merc with the Mouth won't be so many degrees separated from Victor Von Doom.