The Future Looks Bizarre in 'Rocko's Modern Life: Static Cling'
The preview debuted at San Diego Comic Con.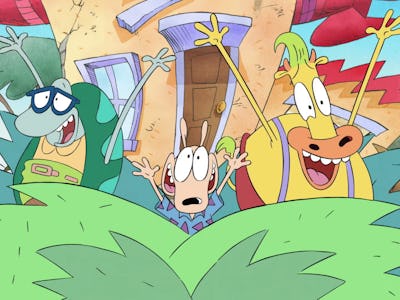 Nickelodeon/YouTube
One of Nickelodeon's best loved shows, Rocko's Modern Life, is back. Rocko's Modern Life: Static Cling is an hour-long TV special set in the 21st century as the original characters try to embrace the modern day. The special, set to air in 2018, reunites the original voice cast while bringing new talent into the mix.
At the San Diego Comic Con on Thursday, Nickelodeon gave fans their first look at the new special, which sees Rocko and his friends Heffer and Filburt discover a whole new world. The trio try out 3D glasses, get their hands on the new O-Phone 8 (a not-so-subtle parody of the iPhone 8) and take a swig of radioactive soft drink Schlam-O. The preview has received a warm reception from fans.
"The new Rocko's Modern Life special looks absolutely incredible," said Twitter user FourScore64. "I love how it truly feels like the original show, and the humor is spot-on"
"The #RockosModernLife reboot is looking pretty great!" said Twitter user TysonTruths. "I like how self-aware it is so far."
"I was worried about this being made less weird like it was but now after seeing this I am pretty excited for the new show!" said Reddit user itsfish20.
Whether the full movie will live up to the originals remains to be seen. The original series, which aired from 1993 to 1996, made a name for itself as a weird, satirical take on the modern day. Anti-capitalist messages weaved with a surreal art style made the original enjoyable for both children and adults. With technology moving at breakneck speed and a new political reality to get to grips with, Static Cling has a big task ahead of itself if it wants to speak to a whole new generation.
Watch the new trailer here: