'Star Trek: Discovery' Comics Will Reveal New Starships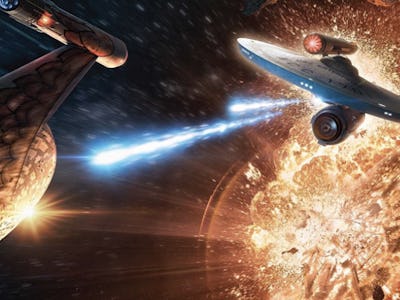 Amazon/Declan Shalvey and Jordie Bellaire
The USS Discovery and the USS Shenzhou well as several other new starships from Star Trek: Discovery will be explored outside of the TV show. A new IDW comic book series will feature lush illustrations of a slew of new Trek starships on its cover.
On Thursday, TrekMovie reported on the IDW plans for the ongoing Star Trek: Discovery comics. Calling the series "KLINGON-centric" IDW said that even revealing the covers would be considered a spoiler. Still, one version of the comics covers will be created by Declan Shalvey and Jordie Bellaire, known to hardcore Trekkies for creation and curation of the popular "Ships of the Line" calendar series. These illustrations basically render the various spacecraft of Star Trek way more beautifully than they've ever been depicted on screen.
It's unclear at this point if IDW is indicating that the Discovery comic-series is Klingon-centric, or if the entire TV series is Klingon-centric. Either way, with this many Klingons in the regular reoccurring cast, it sounds like Game of Thrones-style power struggle will be an ongoing part of Discovery's ongoing narrative. After all, the machincaitons of the various Klingons houses have been a big deal for a long time on Star Trek.
The upcoming Star Trek: Discovery presentation at San Diego Comic-Con will happen on this Saturday. The show will premiere on CBS on September 24, 2017.