Dark Web Users Are Freaking Out After the DoJ's  AlphaBay Bust
"Am I fucked? Yes you are all fucked."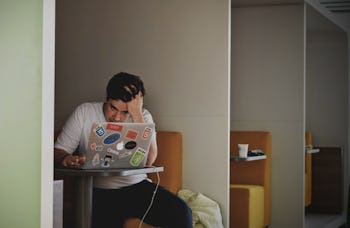 Pixabay
For many dark net users, the sky is falling, and when it lands, thousands of them could be facing jail time.
U.S. Attorney General Jeff Sessions announced Thursday that the FBI, in conjunction with the Drug Enforcement Agency and several international law enforcement agencies, had orchestrated a massive bust that shut down AlphaBay, the dark web's largest marketplace for drugs and other illegal goods. But the real blow was the news that Dutch police and officials from Europol also secretly took control of Hansa, another dark web marketplace, weeks before AlphaBay shut down.
That means the authorities were secretly in charge of Hansa when former AlphaBay users came over there looking for a new sight. This operation over the past month has given authorities thousands of usernames and passwords to help build cases for follow-up investigations. That revelation has sent shockwaves through communities of dark web users.
"If you have popcorn, it's time to go get it," wrote Reddit user AlpraKing. "I'm honestly surprised it took so long I expected this to happen a good 6-8 months ago. Am I fucked? Yes you are all fucked."
AlpraKing's post on r/DarkNetMarkets claimed the crisis was "not even over yet," and suggested that users should "wait a few weeks before massively migrating to Dream," another dark net market. "Part Two: Massive wave of vendors and possibly buyers scheduled to be arrested within few months as well," AlpraKing claimed, apparently reveling in the chaos. Other users accused AlpraKing of being an informant that helped the government. But for many, the fall of AlpraKing and the massive Hansa user bust had an extremely personal toll.
"Literally crying atm," wrote Medacall. I guess LEO want to see a rise in crime due to people doing IRL exchanges for drugs. Congrats Jeff Sessions you fucking twat."
"Looks like I'll be sober for a while," WentztoAlshon wrote. "Not trusting any markets ATM,"
"Sly, very very sly," OlympusXans (likely a reference to Xanax, a commonly-traded drug on the dark net), noted, after highlighting the fact that Hansa's eightfold increase in users all walked right into a massive international law enforcement sting. "Everyone just got rat-trapped."
Hansa's domain now links to a message from the Dutch National Police. The message is on another .onion webpage (the domain of all dark web sites, accessible only through the Tor browser), which lists "active," "arrested," and "identified" vendors or buyers from the marketplace. "If I was one of the vendors on that list I would be fucking shitting myself," wrote TheOnlyFaroesian.
Right now, the biggest fallout from the bust is clear. The entire dark net marketplace ecosystem is shut down for the time being.
"DO NOT MAKE NEW ORDERS ON ANY DNM ANY MORE!" is the first line of Reddit's megathread on the bust. Still, it's inevitable that other successors to AlphaBay and Hansa, like the aforementioned Dream, will pop up.
"We are keenly aware there will be another AlphaBay," Robert Pattison, acting head of the Drug Enforcement Agency said during Sessions's news conference, "But with every investigation we learn more and are getting better."