Hackers to Meet in Las Vegas to Prevent the Next Crippling DDoS Attack
Such attacks have taken down some of the internet's most visited websites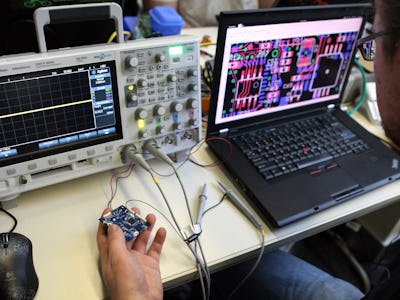 Getty Images / Adam Berry
In the past year alone, Reddit, The New York Times, Kickstarter, Twitter, Spotify, AirBnB, and the cryptocurrency Ethereum have all fallen victim to denial-of-service attacks (DDoS), the form of cyberattack that takes down websites by overwhelming them with coordinated traffic.
Later this month, cybersecurity experts will meet in Las Vegas to look at under-examined and overlooked security vulnerabilities that, if not fixed, could bring about the next major wave of attacks. On Tuesday, IoT Village announced its list of speakers for this year's DEF CON, the annual information technology and hacker convention, and there are some important cybersecurity events in the lineup.
Although these assaults have existed for years, they've recently gotten worse because of the massive expansion of the internet of things (IoT), the term for devices connected to the internet, which these days could be anything from a smartphone to a doorknob to a vibrator. More online devices mean more internet connections that a DDoS attacker can flood.
That's why it's so important that researchers are focusing on how to ramp up the security of the internet of things. IoT Village always organizes security-focused events for DEF CON, and the conversations they facilitate are essential if we're going to fix our IoT security problems before they get much worse.
Here's what else the IoT Village program will include, per the description:
"Other highlights include a talk by Vladimir Dashchenko & Sergey Temnikov which includes over 80 previously unknown security vulnerabilities, and a talk by Alex "Jay" Balan that outlines a remote code execution flaw that afflicts 175,000 devices worldwide. For the first time in the history of IoT Village, there will be a panel session, populated by manufacturers to provide their perspective on the challenges unique to building secure IoT devices."
Dashchenko and Temnikov are from the Kaspersky Lab Critical Infrastructure Defense Team, a company with expert knowledge on DDoS attacks. Balan is from Bitdefender, which designs internet security and antivirus software.
The typical person has no idea when or where the next big DDoS attack will strike, but cybersecurity experts can make highly educated guesses. We'll have to wait until DEF CON to hear more.
DEF CON will take place from July 27 to 30 in Las Vegas.
Correction: An earlier version of this article misstated that Alex "Jay" Balan works for BullGuard. The article has been updated to reflect his current employment.