Here Are the 5 Best Sex Podcasts for Your Listening Pleasure
Spice up your morning commute or get extra worked up at the gym with these steamy selections.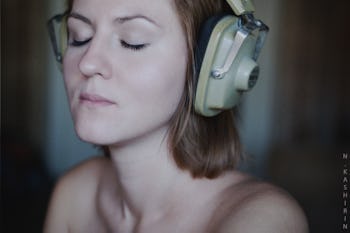 Flickr / Kashirin Nickolai
The phrase "sex podcast" might sound like an oxymoron at first blush to those of us who aren't instantly aroused by the prospect of learning and being entertained at the same time. But it turns out there are a wealth of sexy, entertaining podcasts on the market, if you're willing to expand your palate.
But not all podcasts about sex are created equal. Even if they go beyond an adamandeve.com sponsorship, some podcasts use sex as fodder to generate controversy or perpetuate sexism through schlocky, outdated humor.
The ideal sex podcasts treat sexuality with the respect it deserves. These shows range in subject matter, from comedy with an erotic twist to educational shows aimed towards making you a more consciously sexual being, and they're all sex-positive.
Below is a selection of five podcasts that engage with sexuality thoughtfully and add their own twist on the subject.
My Dad Wrote A Porno
In the age-old tradition of exploiting paternal trauma for profit, Jamie Morton turned the discovery that his father published a series of erotic novels under the pseudonym "Rocky Flintstone" into a successful, hilarious podcast with friends James Cooper and Alice Levine, thoughtfully dubbed My Dad Wrote a Porno.
The novels, starring a sex-crazy sales consultant named Belinda, are rife with unrealistic dialogue and depraved sex acts made all the more repulsive by the fact that they were envisioned and then penned by an older, married Irish man. Morton reads a different excerpt from the novel in each episode while Cooper and Levine provide additional commentary.
Guys We F****d
Comedians Corinne Fisher and Krystyna Hutchinson, who perform as a comedy duo called Sorry About Last Night, brand Guys We F****d as the "anti slut-shaming podcast." Accordingly, they pull no punches when it comes to getting down and dirty about sex, whether they're discussing their own exploits or swapping stories with guests.
Fisher and Hutchinson also field listeners' questions and tackle subjects like domestic abuse, racism in the dating world, and having sex while disabled — while keeping spirits light with a fair share of raunchy jokes.
Sex Nerd Sandra
The titular host of Sex Nerd Sandra is a sex educator who uses her podcast to explore a range of topics across the sexual spectrum with an eye towards intersectionality. Psychologists, adult stars, sexperts, and even comedians join Sandra for frank but respectful discussions about all things sex-related.
This podcast skews pretty significantly towards the "information" end of infotainment, with entire episodes dedicated to teaching listeners about oral sex techniques, asexuality, and even necrophilia. Through it all, Sandra remains eager to learn and ready to listen, an attitude that's definitely worth replicating in the bedroom.
Angela Yee's Lip Service
Have you ever wondered what Rick Ross does in bed? Thanks to radio host Angela Yee, you can find out the answer to that query along with so much more. Angela Yee's Lip Service features interviews between Yee, along with a rotating coterie of her friends, and prominent hip-hop artists and R&B singers.
Lip Service is definitely geared more towards music fans, but it also serves as an interesting look at the intersection of celebrity and sexuality. Rappers reveal surprising sexual hang-ups, and Yee and her friends aren't afraid to push their guests into uncomfortable territory or explore their own sex lives on air.
Sex with Strangers
Sex with Strangers benefits from host Chris Sowa's interviewing skills and his restraint when it comes to injecting himself into the conversation. Each episode of this podcast features a range of guests all speaking on one overarching topic while Sowa narrates to bridge gaps between soundbites.
This podcast is rich with first-hand perspectives from people working in different facets of the sex industry, from healthcare professionals to phone sex operators, and it gives guests space to tell their own stories related to topics like "Sex with Mormons," "The War on Porn," and "Paying for Sex."