Report Reveals Why the Xbox One X May Have Already Lost
It can play 4K content, but can it play the right games?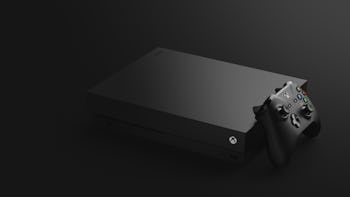 Microsoft
The Xbox One X is an impressive beast, but it may not be enough to turn the tide in Microsoft's battle to beat Sony in the gaming market. A report published Tuesday claims that, due to the network effect where players pick consoles based on what their friends own, the Xbox One X will have an uphill struggle making its name in the marketplace.
"Right now, looking at this as a gamer, I don't see Microsoft's Xbox One X offering anything that would make it a game-changer," said John Ballard, a writer for Motley Fool with an 83 percent success rate on stock tip rating site TipRanks.
The new console, set to launch November 7 for $499, has some impressive specifications. Its six teraflop graphics power beats out the PlayStation 4 Pro's 4.2 teraflops, meaning that where Sony's premium console may struggle to play games on high-resolution 4K screens at a smooth 60 frames per second, the One X can pull it off with ease.
The problem Microsoft faces is fourfold. First, the Pro is $100 cheaper, so Microsoft has to convince people that spending the extra money for native 4K gaming is worth it. But the Xbox One platform has fewer critically-acclaimed releases compared to the PS4, and the One X still does not have an answer to the PlayStation VR that launched last year.
These three issues may be minor issues for some, but there's a bigger issue that could deter new buyers: chances are, their friends aren't playing together on Xbox.
"The interconnectivity of millions of gamers through online enabled consoles makes it even more difficult for a console maker to catch up once it falls behind," Ballard said, pointing to Sony's 70 million-strong PlayStation Network as a sign that Microsoft could struggle to bring newcomers into the Xbox fold. Xbox Live, by comparison, has around 55 million users. "Gamers are naturally going to invest in the console ecosystem where their friends are playing."
It's not the first time the Xbox One X has been called into question. On Sunday, Wedbush Securities analyst Michael Pachter said that the console is too expensive, predicting that it "will not do well" as not enough people own 4K TVs. The One X is an impressive piece of technology, but because of market circumstances that might not be enough.