'Star Wars' Is Officially Making Fun of the Dumbest Fan Theory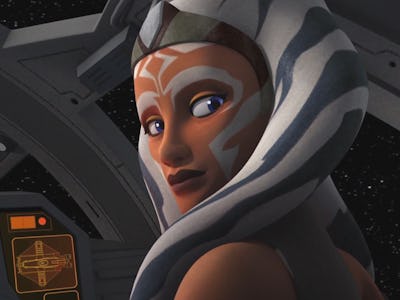 Disney XD
After Ahsoka Tano battled her estranged master Anakin Skywalker in all his Darth Vader glory in the Season 2 finale of Star Wars Rebels, she disappeared into the ruins of Malachor. An already debunked fan theory about what happened to Ahsoka after that has, apparently, gained so much traction again that the official Star Wars Twitter account felt the need to debunk it, again.
No, Ahsoka does not, somehow, turn into a wolf.
While series executive producer Dave Filoni has outright said that Ahsoka is not a wolf, that's not stopping fans from loving the idea. The bonkers theory, which is mainly attached to Filoni's apparent love of wolves, first spawned when a giant, white wolf was shown in the trailer for Rebels fourth and final season, seemingly without explanation.
Kanan Jarrus, one of the titular rebels and a Jedi who miraculously survived the dreaded Order 66 from Emperor Palpatine in Star Wars: Revenge of the Sith, is shown reaching out for the wolf in the trailer.
Probably hoping to calm the storm, the Star Wars Twitter account tweeted out "ICYMI" with a picture of Kanan and the wolf, clearly labeling the creature as "NOT AHSOKA."
Hopefully, the Star Wars Rebels fandom will now let sleeping dogs (er, wolves) lie. But they probably won't.
Star Wars Rebels returns for its fourth and final season this fall.