Triple Crown Potential, Discount Oil, Deflategate, and More: This Week's Odds
Here's our weekly odds about anything and everything important and unimportant.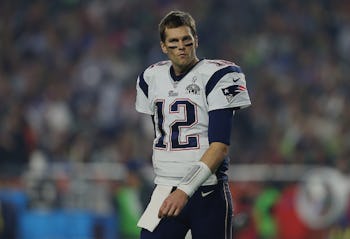 www.GettyImages.com
1. American Pharoah Will Win the Triple Crown
A century of thoroughbred racing has produced only 11 Triple Crown winners, and none since Affirmed in '78. Many since have come close: 13 horses have won the first two legs of the Crown (the Kentucky Derby and the Preakness) only to lose the 1½-mile Belmont Stakes. Most recently, in 2008, Big Brown stormed into the Belmont Stakes as a 1-to-2 favorite, but didn't even finish the race, as jockey Kent Desmoreaux eased up on the home stretch. Physicals and blood tests revealed nothing out of the ordinary; a loose horseshoe eventually took the blame for the collapse. American Pharoah, winner of six straight races, will run for the Triple Crown on Saturday as a 10-to-11 betting favorite, with no other horse better than 9-to-2. History would caution against calling that a shoe-in, but I'm picking the horse that trainer Bob Baffert says is "on his game." Odds we see the first Triple Crown winner in 37 years: 10-to-11
2. Oil Will Take Its Sweet, Crude Time Getting Back to $80 a Barrel
Iran's oil minister Bijan Zanganeh recently predicted the world price for oil will return to $80-per-barrel by 2017, down from the world peak price of $147.50 in 2008 and up from the current bargain of $59.97 per barrel. Experts agree that price can't last, but the road back to triple digits won't be swift. Production seems to be at an all-time high without major suppliers like Saudi Arabia reining in production to jack up prices. Still, it's gotta change sometime. Over/under for oil hitting $80: June 2017.
3. Martin O'Malley Will Challenge Hillary for the Democratic Presidential Nom in 2016
Though it isn't official yet, former Maryland governor Martin O'Malley is likely to declare his candidacy for the Democratic Presidential nomination during his May 30 "special announcement" he publicized over Twitter and Snapchat. O'Malley would join Vermont senator/Internet mascot Bernie Sanders and the unstoppable Hillary Clinton, as the major Democrat candidates in the running for President. That Hillary will get the nom seems at least as certain as Dewey beating Truman. But as CNN stated last week, O'Malley could bring a youthful spirit to a race that so far lacks much youth or spirit. CNN's sources say O'Malley would be taking a "general approach of running a fresher and less canned campaign," but then, no one ever announces their campaign is going to be stale and predictable. Odds that an O'Malley campaign will disrupt Hillary's machine: 6 to 1.
4. Tom Brady's Deflategate Suspension Won't Affect the Patriots This Season
Softening up some footballs has cost the New England Patriots $1 million, draft picks in 2016 and 2017, and Tom Brady's throwing services for the first four games of this season. How much of a pissa is this for fans in Massachusetts? Probably not much. Brady's participation in Pats games is worth about 7 points per game. FiveThirtyEight ran the numbers on the first four games of all the seasons Brady has been in the league (including the 2008 season he missed because of an injury), taking away the projected 6.5 or 7 points Brady ostensibly contributed to those games. Shaving off those Brady touchdowns between 2001 and 2014 took them out of playoff contention in 2005 and 2009, but left intact their Super Bowl wins (in 2001, 2003, 2004, and 2014). Pats fans should embrace the extra month of rest for their starter, who will be 38 years old this season. The effects of the suspension are, shall we say, overinflated. Odds that New England wins the Super Bowl: 8-to-1.
5. '19 Kids and Counting' Will Get Canceled After Molestation Scandal
Josh Duggar sucks. He recently confessed to molesting five underage girls, including some of his own sisters, roughly 10 years ago, when he was also underage. He's oldest of the titular brood on TLC's 19 Kids and Counting, an unabashed sideshow that documents the quirky lives and prolific loins of Michelle and Jim Bob Duggar. Josh was until recently the head of the Family Research Council, an anti-gay conservative lobby group. Once he confessed to his crimes, he resigned, TLC pulled his family's show. How likely are we to see the show again? When "Mama June" Shannon, the figurehead of another TLC piece of garbage moonlighting as a TV show called Here Comes Honey Boo Boo, was photographed with a registered sex offender in 2014, that show was canceled. The Duggars should also expect to stay dark. Odds that "19 Kids and Counting" ever returns to air: 20 to 1.