Pixar Reveals When 'The Incredibles' Sequel Takes Place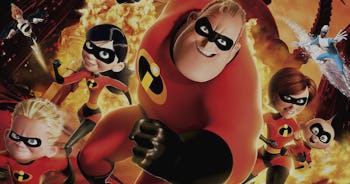 'The Incredibles'
We finally know when the follow-up to Pixar's The Incredibles will take place, and it's right where the first movie leaves off; literally moments later.
While speaking with IGN Friday at the D23 Expo, Pixar Chief Creative Officer John Lasseter confirmed that there won't be any time-skip between the first The Incredibles and the sequel.
Lasseter said, "It starts right as the first one finishes, so it just carries on." Barely "a minute" will have passed. "You know that at the end of the first movie when [the Underminer] comes up and you see the family dressed as superheroes?" Lasseter added. "Well that's where start this movie."
Considering that 14 years will have passed by the time The Incredibles 2 comes out in 2018, it would have been easy to imagine an aged-up super-family that's changed or evolved, and in several cases, grown up. Violet would've graduated college by now. But instead, the movie will jump right into a confrontation with the Underminer and his huge drill that was the cliffhanger final scene of The Incredibles.
As a refresher, here's that very scene:
The Incredibles 2 will continue exploring what it means to be a family of superheroes that fight supervillains together. If there's anything that can bring them together for some serious bonding, it's taking down the buck-toothed Underminer and his enormous drill.
Look for The Incredibles 2 on June 15, 2018.