The U.S. Is About to Deploy 'Algorithmic Warfare' Against ISIS
Commercial A.I. gets weaponized for the war on terror.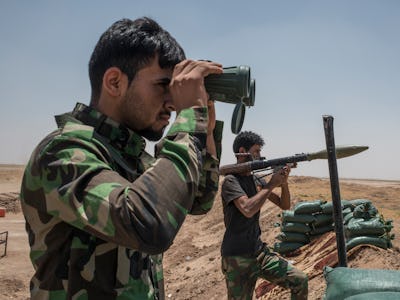 Getty Images / Martyn Aim
Weaponized A.I. doesn't quite look like it does in the movies — there are no clanking robot soldiers, for one — but a new military program will start to incorporate commercial algorithms in a decidedly warlike function later this year.
The Algorithmic Warfare Cross Function Team doesn't so much kill with code as provide a military-grade image analysis service. On Thursday, Col. Drew Cukor, head of the AWCFT, explained the application of A.I. in the fight against ISIS at the Defense One Technology Summit in Washington, D.C.
"Our work force is frankly overwhelmed by the amount of data," Cukor said, according to Breaking Defense. And no matter how good military data analysts are, "staring at things for long periods of time is clearly not what humans were designed for," he said.
That's where A.I. comes in. Using an adapted version of several private sector algorithms, Cukor said the military can sort through the massive amount of multimedia data, particularly video and photos from surveillance satellites and drones, looking for patterns and specific objects.
"We're not talking about three million lines of code," Cukor said. "We're talking about 75 lines of code… placed inside of a larger software (architecture)."
The Department of Defense has to do this with A.I., because the rate of satellites is increasing so fast it's flooding them with data.
"If we looked at the proliferation of the new satellites over time, and we continue to do business the way we do, we'd have to hire two million more imagery analysts," National Geospatial Intelligence Agency mission integration director Scot Currie told the conference, according to Breaking Defense.
The A.I. will be trained to recognize about 38 different types of objects in a massive amount of video footage, allowing analysts to find and track weapons, vehicles, and other battlefield assets much faster than a human viewer could. And it's all going to happen soon.
"We will put an algorithm into a combat zone before the end of this calendar year," Cukor said.