Hey, Marvel, Thanks for Letting Peter Parker Screw Up
Peter Parker sucks at being Spider-Man in 'Homecoming,' but that's the best part.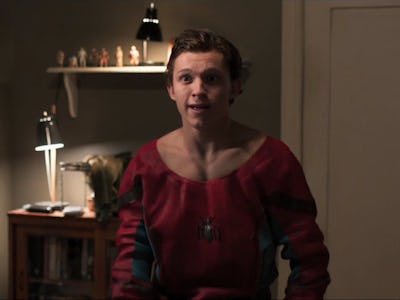 Marvel Entertainment
Peter Parker's just getting the swing of things in Spider-Man: Homecoming. Sure, he helped Tony Stark's Avengers out in Germany during Captain America: Civil War, but there's still a lot for the young Spider-Man to learn before he becomes the fully fledged hero he's destined to be.
Tom Holland's Spider-Man sucks at being Spider-Man — and that's the best part of the whole damn movie. A 15-year-old shouldn't be good at being a superhero.
Obviously, this post contains spoilers for Spider-Man: Homecoming. Don't blame us if your Spidey senses won't let you look away.
Throughout the course of Spider-Man: Homecoming, Peter Parker fucks up a lot. At least, it feels like a lot. He destroys the roofs of suburban homes, doesn't keep his phone on silent when tracking down bad guys, wrecks Flash's dad's car, can't intimidate Aaron Davis to save his life, reveals his secret identity to his best friend within the first 20 minutes of the movie, almost destroys the Staten Island Ferry, and handles his crush on Liz in the worst way possible; and that's not even the half of it.
But, really, Holland's Spider-Man doesn't make that many more mistakes than Tobey Maguire or Andrew Garfield's versions ever made. Seriously; Peter's never really been too smooth. The only difference with Homecoming's Peter is that the stakes feel so much more real.
That has everything to do with Holland's Spider-Man truly seeming like a 15-year-old just trying to do the right thing. He's painfully realistic.
Sure, the newest Peter hasn't accidentally killed anyone (yet) a la Garfield's Spidey in the The Amazing Spider-Man 2 (RIP Gwen Stacy), but he came close in Homecoming. Peter's lowest point in the film, by far, is when his good intentions nearly turn deadly. He's skipped school, tracked down Toomes and his cronies, interfered with an FBI sting, sliced a Staten Island Ferry in half, and failed to fix the situation on his own.
Tony Stark's Iron Man (Robert Downey Jr.) shows up in the nick of time, saving Peter from the guilt of killing anyone aboard the ferry but he's still furious at his young protégé. Peter, barely holding back tears, is more worried about having hurt someone than his own fate at first, but, soon, the ego sets in as he protests that he was just trying to do the right thing.
"I'm nothing without that suit," Peter says when Tony tells him to give it back, which prompts Tony to come back with a harsh (but true) "If you're nothing without the suit, then you shouldn't have it." The line is this film's version of the played-out "With great power comes great responsibility," pushing Peter to become the best version of himself. But that best version is still pretty far down the line.
Peter goes after Toomes anyway in his home-made costume, wrecking Brighton Beach, terrorizing the pedestrians at Coney Island, and almost dying in the process. Never has an on-screen Spider-Man been so enormously frustrating. And that's because he's still a work in progress.
Spider-Man is the first young hero in the Marvel Cinematic Universe. Yeah, the others have their origin stories and have to figure things out along the way, but none of them are nearly as untested, innocent, and overwhelmed by the urge to save everyone all the time; the only hero who comes close is Steve Rogers's Captain America, but he's not a kid (he only looks like one at first).
Holland's Peter Parker acts as the epitome of "learning from your mistakes," and it's what makes him such a believable, relatable teenager. Finally, audiences might get to see Peter grow up, resulting in the MCU's only real coming-of-age story. What's more relatable than trying your hardest, only to fail?
Spider-Man: Homecoming is now in theaters.