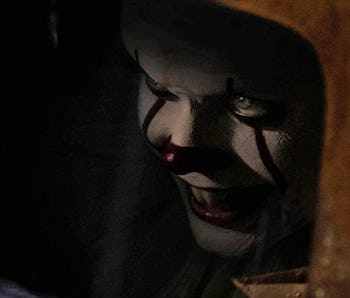 Entertainment
'It' Pennywise Actor Cast in Stephen King 'Castle Rock' Series
Do they float in Castle Rock, too? 
New Line Cinema
Pennywise might normally hang out in Derry, Maine, but Stephen King's classic villain is coming to Castle Rock this time around. Or at least, the actor who's playing Pennywise in the upcoming It remake, Bill Skarsgard, is coming to visit. King and J.J. Abrams's Hulu series Castle Rock, based on a number of King's novels and short stories, has added Skarsgard to its ranks as a series regular.
As reported by IGN, Skarsgard (It, Hemlock Grove) has been cast in the role of "a young man with an unusual legal problem." He'll be joining other series regulars Sissy Spacek (who played the titular role in 1976's Carrie), André Holland (Moonlight), and Jane Levy (Suburgatory) who will portray characters with similarly vague roles. Holland's character, "a death row attorney with a unique and complicated history," is the most certain, with his character's connection to death row seemingly connecting him to King's 1996 serial novel The Green Mile.
While Skarsgard's presence in Castle Rock doesn't confirm he'll be portraying Pennywise, it's suspicious that two Kingverse actors (Skarsgard and Spacek) have been brought on to a series that seems determined to weave the Kingverse into one coherent story.
Castle Rock does not currently have a release date.