Stephen King's 'Castle Rock' Will Feature Former 'Carrie' Actress
And a "death-obsessed" newbie.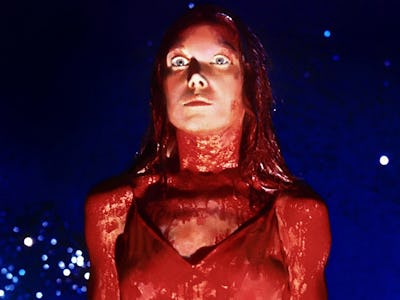 MGM
Carrie will return to the Stephen Kingverse for the upcoming Castle Rock series. Or, at least, the actress who portrayed Carrie in the 1976 film adaptation of Carrie, Sissy Spacek, will star in Hulu's upcoming horror series from producer J.J. Abrams. Spacek and Jane Levy (Suburgatory) will join Moonlight actor Andre Holland for the 10-episode anthology based on an unknown number of King's works.
As reported by The Hollywood Reporter, Spacek will play Ruth Deaver, "the estranged adoptive mother of Henry (Holland) and a retired professor whose fading memories may hold a key to Castle Rock's unsettling past." Meanwhile, Levy will portray Jackie, "the death-obsessed and self-appointed historian of Castle Rock." Both characters' connections to history lead to the assumption that they'll work together to solve whatever mystery is going on, but there's still very little information about the show as a whole.
Holland's casting as a death row attorney hinted at King's The Green Mile (1996) as being involved in Castle Rock.
King's works feature two characters named Jackie. One is Jackie Talbot (a male character) of Carrie, who helped Billy Chris play the prom night prank on Carrie, while the other is Jackie Wettington, an inept officer of the Chester's Mill Police Department in King's Under the Dome. Neither seem to fit the descriptions provided for the Jackie character in Castle Rock.
And while no other obvious connections present themselves with this casting information, the web of Castle Rock is sure to only grow.
No premiere date has been attached to Hulu's Castle Rock.