Here's Your First Look at the Wasp in the 'Ant-Man' Sequel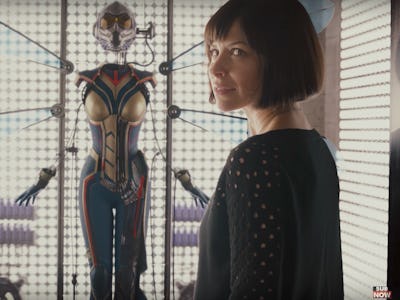 Marvel Entertainment
Although Marvel teased the Wasp in Ant-Man's post-credits scene, we haven't learned much more about her future in the MCU since then. With Avengers: Infinity War right around the corner and the Ant-Man sequel, Ant-Man and the Wasp, coming next July, it seems like it's about time Marvel gave us a peek at the all-new, all-improved Wasp. Well, at the D23 Expo this weekend, Disney fans will get a glimpse at the Wasp when they gaze upon the ceiling banners overlooking the convention.
On Twitter, Marvel Studios concept artist Andy Park shared a photo of one of the D23 banners that features the new Wasp. In a caption, he wrote: "#D23 1st glimpse at Wasp #AntManandtheWasp I LOVED concept designing & painting her! I'm there Fri at MarvelStudios booth. Who's going?"
While this is indeed a glimpse at the Wasp in the next Ant-Man movie, it isn't the first time that a Wasp has appeared in the MCU. In the first Ant-Man, Janet Van Dyne — aka the Wasp — appeared in a flashback, where Janet went "subatomic" during a mission and was lost in a different dimension. In the film's post-credits scene, Hank Pym (Michael Douglas), Janet's husband and the original Ant-Man, shows his daughter Hope (Evangeline Lilly) a prototype Wasp suit he and Janet had been working on. Hope was originally meant to make her costumed debut in last year's Captain America: Civil War, but she was held back in favor of Paul Rudd's Scott Lang turning into Giant-Man.
After Ant-Man and the Wasp, the Wasp will fly into action in the still-untitled fourth Avengers movie.
Ant-Man and the Wasp will be released on July 6, 2018.