New 'Blade Runner 2049' Photos Reveal a "Brutal" Future World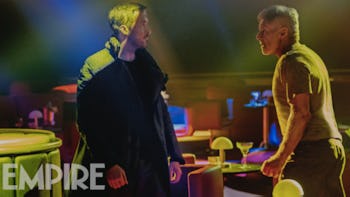 Empire Magazine 
The latest glimpse of the Blade Runner 2049 shows Agent K (Ryan Gosling) and Deckard (Harrison Ford) in a standoff which might end in everyone admitting they are both in fact, not human.
On Tuesday, Empire Magazine released a new photo from the Blade Runner sequel along with a little bit of new information about the plot of the movie itself. Gosling had this insight about how the noir future of Blade Runner feels since we last glimpsed it in 1982. "The world has become more brutal. People are trying to survive," he said ad added that this character "…discovers a mystery that makes him question his own identity, and Deckard is the only one who can answer those questions".
The mystery K is pursuing is almost certainly the question of his own humanity. So far, most of the trailers for Blade Runner 2049 have already heavily implied that like Deckard before him, K isn't sure if he is a replicant or not.
It may seem premature to wonder if Blade Runner's new protagonist is a Replicant, when many fans still debate if the OG Blade Runner himself is a replicant. On that score, the director of the original film — Ridley Scott — has made it clear that the new Blade Runner will answer that question.
Scott is not directing Blade Runner 2049, however. Its director is Denis Villeneuve fresh from his success with the sci-fi hit Arrival. In the same Empire article he admits that there is no way to beat the original film. "No matter what we achieve, we will always be compared with a masterpiece," he said. "But what we are doing is so insane, it gives you freedom."
The next full issue of Empire — with more Blade Runner 2049 — hits newsstands this Thursday. The film itself hits theaters on October 6, 2017.