David Hasselhoff Will Star in a Far-Out "Guardians Inferno" Video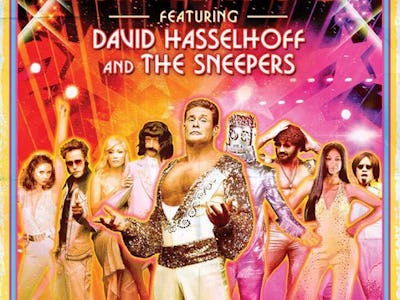 Facebook.com/JamesGunn
Just a few months ago, the world fell back in love with the galaxy's most capable A-holes in James Gunn's Guardians of the Galaxy Vol. 2. Amidst the film's killer soundtrack of '70s pop hits, including as The Sweet's "Fox on the Run" and Cheap Trick's "Surrender," there was one new track: TV icon David Hasselhoff (Knight Rider) far-out rap in the delightful "Guardians Inferno," an homage to Meco's 1977 disco remix of the Star Wars theme. And now, on Facebook, Gunn announced that the Blu-ray release of Guardians of the Galaxy Vol. 2 will have a music video of the song starring Hasselhoff and the cast of the film.
On Monday afternoon, Gunn took to Facebook to announce "the greatest thing I've ever worked on." In a short message, Gunn wrote: "I've been dying to announce this, because it may be the greatest thing I've ever worked on, but there's a 'Guardians Inferno' video coming soon with Guardians of the Galaxy Vol. 2 on home video. Available digitally on Aug. 8 and physically on Aug. 22."
Along with the announcement, Gunn shared a vintage-style poster for "Guardians Inferno," which features Hasselhoff and several members of the film's cast (including Pom Klementieff, Dave Bautista, Zoe Saldana, and Michael Rooker) all dressed in garb straight out of Studio 54.
There's no hyperbole here. This really is the greatest thing James Gunn may have ever done, including the first Guardians of the Galaxy. Just look at Drax and Gamora in those outfits. This is it, we don't need Avengers: Infinity War anymore. The Marvel Cinematic Universe can end right here.
Check out the poster below.
Guardians of the Galaxy Vol. 2 will be available on Blu-ray on August 22. If you're too impatient to watch the music video, you can listen to "Guardians Inferno" below.