Twitter is Blowing Up With Jokes About Hobby Lobby Funding ISIS
Who did they think was selling stolen antiquities?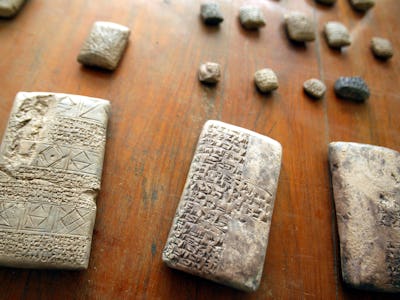 Getty Images / Mario Tama
Craft supplies chain and notorious birth control opponent Hobby Lobby was fined $3 million on Thursday in a civil suit brought against the corporation for smuggling more than 5,500 ancient clay artifacts into the U.S. from Iraq in 2010.
Hobby Lobby has caught flack in the past for covertly promoting anti-gay and pro-life legislation. The chain is perhaps most famous for using its Christian values as justification for denying female employees coverage for contraception under its insurance plan.
This decision was upheld by the Supreme Court in 2014.
So, when news broke that Hobby Lobby was implicated in some decidedly un-Christian acts of theft and international smuggling, critics were excited to see them entangled in a legal battle they wouldn't win.
But that excitement turned to glee when people made the connection between Hobby Lobby's artifact smuggling and another group that also made headlines for their role in illicit antiquities business: ISIS.
The terrorist organization has become notorious for both destroying important Iraqi cultural artifacts and selling them for profit. Internet comedians and conspiracy theorists made the connection, and thus, a meme was born.
Some gave the theory a little more gravity than others.
Naturally, one user proposed a craft tutorial, because who doesn't love a good art project?
Others began to draft spec scripts.
While there's obviously not enough information to conclude that Hobby Lobby and ISIS are actually connected in any way, sometimes, it's just fun to pretend.
See also: The Best Twitter Responses to Chris Christie's Summertime Hypocrisy