Why Wimbledon Tennis Is the Fastest Tennis You'll Ever Watch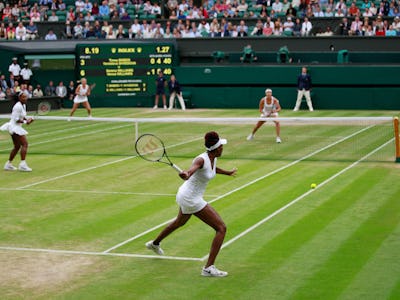 Getty Images / Adam Pretty
The carefully manicured grass surfaces at the Wimbledon courts in London, England are where tennis balls go to get punished.
It might seem counterintuitive that grass surfaces make for faster-moving tennis balls than hard clay or concrete courts, yet tennis pros have spoken of Wimbledon's fast magic for decades, and basic physics backs it up.
"It is the fastest surface that we have in the sport," said Novak Djokovic in 2011.
He's not wrong: The speeds at Wimbledon have been estimated to average about 45 miles per hour, which Grantland has pointed out is 15 to 20 percent faster than speeds achieved on clay, the slowest type of court in tennis. Generally, the speed of the ball is linked to the hardness and smoothness of the surface: while concrete and clay are considered hard surfaces, they're also quite gritty, so some speed is lost to friction.
Grass courts are relatively soft, but their blades of grass cause balls to bounce lower and more horizontally — which translates into increased speed. When a tennis ball smashes into the grassy ground at Wimbledon, the soft ground creates a slight skidding or sliding motion, giving the ball a little "kick." This skidding takes some of the spin out of the ball, but that energy is not lost: the rotational energy is transferred into speed.
Grass courts, however, may not be the factor influencing faster play at Wimbledon. New-age tennis balls may simply not "fluff" as much, making for speedier balls everywhere.
"The biggest thing, I think, is the balls," said professional tennis coach Brad Gilbert in an interview with ESPN. "They're not fluffing up as much as they used to…I think, [to] me, those quicker balls are trickier to get used to than the quicker courts." The idea is that fluffier balls, being less aerodynamic, move more slowly through the air.
For all its notoriety, Wimbledon may not be the tennis world's speediest court for long, as different tournaments are tinkering with surface ingredients. The 2017 Australian Open courts, played on a hard, blue Plexicushion surface, recently surprised players with its speed.
"I've never played on a court that was that fast," American tennis player John Isner told ESPN in January. "I warmed up, and I was shocked. That thing was greased lightning out there."
Still, Wimbledon can generally be expected to have faster play, a style many of the greats prefer. The former number-one ranked player in the world, Pete Sampras, won seven titles on England's grassy courts, while never making it to the finals once at the hard clay French Open courts.
Some players, however, are at ease on any surface. The world's most dominant tennis player, Serena Williams, seems to kick ass everywhere, having won Wimbledon seven times, and 16 times on the harder surfaces at the U.S., French, and Australian Opens.