Here's Why Bitcoin's 'Fourth Wave' Could Be a Huge Opportunity
What goes down... will probably come up?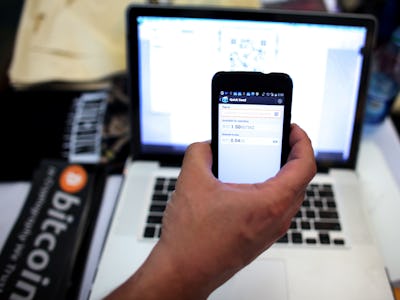 Getty Images / Joe Raedle
Analysts think Bitcoin is going to continue to crash, but that could be a good thing.
Bitcoin is currently in the middle of a "corrective fourth wave" after hitting an all-time, $3,000 high in the middle of June, and its price is going down. On Sunday, Sheba Jafari, the head of technical strategy at Goldman Sachs, sent out a note to the investment firm's customers that predicted the fourth wave would bottom out at about $1,857. But rather than dark news for bitcoin investors, the bottom of the fourth wave could be a great time to buy.
Jafari's note, reported by Business Insider, points out that after the end of the fourth wave, analysts expect the cryptocurrency to hit a fifth wave, where its price could surge to close to $4,000 per coin. That means for prospective buyers willing to trust Goldman's analysis, the end of the fourth wave might be a good time to buy in.
"From current levels, this has a minimum target that goes out to $3,212 (if equal to the length of wave I)," Jafari writes. "There's potential to extend as far as $3,915 (if 1.618 times the length of wave I). It just might take time to get there."
Other analysts, like Nicola Duke at Forex Analytix, say that bitcoin could fall to $1,470 during the current correction. But most of the industry agrees that the current drop is liable to continue for a while. The bigger question is whether or not the "bitcoin" bubble, as it will, is going to burst for good or whether the fifth wave will keep it alive longer. Duke told CNBC in May that the bottom end of the fourth wave would likely come in January 2018 — so it appears we may not see any more price hikes for the rest of the calendar year. Either way, the price of bitcoin is so volatile that buying in is inherently a risky investment, but the exponential increases over just the last five years or so have paid off big time for some people.