SpaceX Aborts Launch for Intelsat 35e Mission With Ten Seconds Left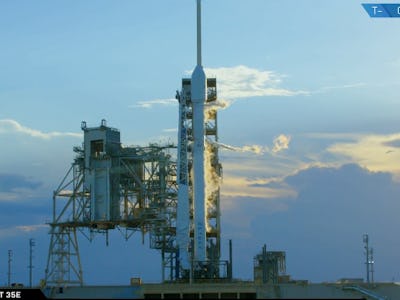 SpaceX, Youtube
Ahead of Sunday night's launch of a Falcon 9 rocket from Launch Complex 39A at Kennedy Space Center in Florida, SpaceX was predicting a 60 percent chance that it wouldn't happen due to weather conditions. But although it turned out to be a sunny and clear view from the ground as the live streamed countdown began, the mission was aborted just ten seconds before launch.
John Insprucker, principal integration engineer at SpaceX and launch host, stayed with viewers following the abort, waiting to find out what had caused the abrupt stop of the Falcon 9 launch.
With a view of the Falcon 9 sitting peacefully on the launch complex, the voice of the launch director could be heard over the live stream, detailing what had just gone down as a GNC criteria abort. Insprucker translated for viewers; "This is a computer abort that happened at T-minus 10 seconds where we're looking at the status system and the flight hardware that supports it. It appears that something was out of limits, the computer stopped the countdown before we got into the engine ignition sequence."
Unfortunately, there was no time left in Sunday's window to recycle the countdown, and so we were left to wait another day.
It was supposed to be SpaceX's third launch in nine days, with two launches occurring over three days on June 23 and 25.
"We got the weather cooperating today, we got all the way down to ten seconds, and then we had an automated abort," Insprucker said.
A backup launch window will open on July 3 at roughly the same time; around 7:37 p.m. Eastern. The Falcon 9 is tasked with delivering an Intelsat 35e communications satellite into orbit.
Here's a video of the aborted launch, if you want to watch the anti-climatic moment in real time: