The Science Policy Division of the White House is Now Empty
It's unclear what the White House plans to do about its science deficit.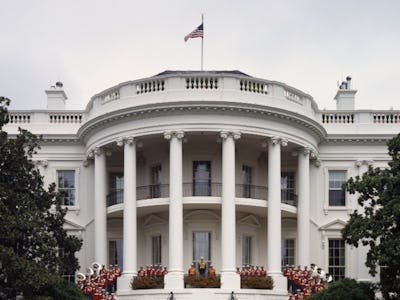 Flickr / Gage Skidmore
Apparently no one is advising the president on science anymore, according to tweets from former employees in the science division of the White House's Office of Science and Technology Policy.
On Friday afternoon a couple of tweets from former OSTP staff confirmed that the office now had zero employees in its science division, as the three remaining employees departed this week. CBS News reported that under the Obama administration, the science division had employed nine people to advise the president on policy matters such as STEM education, biotechnology and crisis response.
No longer is this the case, as Eleanor Celeste, the former assistant director for biomedical and forensic sciences tweeted: "Science division out. Mic drop."
Kumar Garg, an Obama-era OSTP staffer echoed Celeste's tweet in his own post Friday.
The absence is already being noticed in Washington. On Saturday, Former White House deputy chief technology officer and Google VP Nicole Wong tweeted that the science division will be sorely missed.
Under the Obama administration, the entire office employed around 100 people. A White House source told CBS News that 35 people now work for the OSTP. It's likely that the White House will now spread the policy matters the science division was tasked with among other OSTP staffers, but with the Trump administration's apathy towards climate change and other matters of science, those issues are clearly not a priority.