Alicia Silverstone Doesn't Get Why Y'all Love 'Wonder Woman'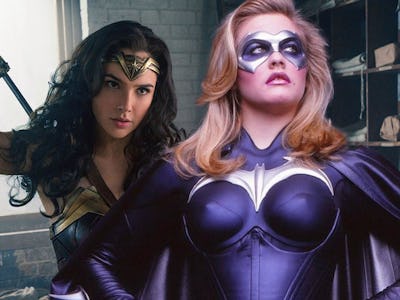 Warner Bros. Pictures
Wonder Woman recently became the highest-grossing movie in the DC Extended Universe — not to mention the highest-grossing film by a female director, ever. But, even though the Gal Gadot-led flick seems to have proved, once and for all, that superhero movies starring women can be major successes, another DC heroine doesn't understand all the love.
Alicia Silverstone, who played Batgirl in 1997's Batman & Robin, spoke to Variety at the Cannes Lions. The actress, who is best known for starring in Clueless, seemed to lament that it's only because Wonder Woman is a superhero movie that it's being seen as a sign of progress for women in film.
"Wonder Woman? Before Wonder Woman there have been many movies with female leads, so I get a little confused," Silverstone told Variety. "We have made strides, of course. I think about, what about all those wonderful comedians who are females who have had massive hits? There's Bridesmaids. There's a movie out right now…with tons of girls. I'm sure it's killing it, right?"
This is a little besides the point, but the movie Silverstone is referring to, Scarlett Johansson's Rough Night, bombed hard. It only brought in $8 million despite opening on more than 3,000 screens. It was beat at the box office by 47 Meters Down, a shark attack movie starring Mandy Moore that was originally meant to go straight to DVD.
"I don't know. I just feel like, over the years, there was 'Mean Girls,' there was 'Clueless.' Over the time we have had, there's been so many movies that have been female-driven," Silverstone said.
"It has to be 'Wonder Woman.' It has to have tons of flash, right?" she continued, saying that she didn't necessarily want to bring her kids to action-packed blockbuster spectacles and would prefer if quieter movies could carry the same cultural cliché as superhero flicks do nowadays.
Silverstone has a point, kind of. Superhero movies shouldn't be the end-all standard that all progress in Hollywood is measured by. But, the real buzz around Wonder Woman is that it's proving "traditional" gender stereotypes in a genre of movies made for male demographics wrong. For Wonder Woman to blow away the competition in what had previously been assumed to be a male field is no small feat. It's not everything, but it sure as heck ain't nothing.