'Wonder Woman' Success Is Great News for Marvel, Kevin Feige Says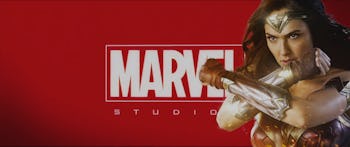 Marvel/Warner Bros. 
Given that the DC Extended Universe just saw its biggest success yet with Wonder Woman, you'd think that maybe Marvel is starting to feel a little bit nervous. But the president of Marvel Studios, Kevin Feige, is actually super grateful that the competition's film did as well as it did, as it's good news for Marvel down the line.
While speaking to Mashable ahead of Spider-Man: Homecoming's release, Feige said that Wonder Woman's success as the first female-led superhero movie since Catwoman and Elektra paves the way for the MCU's own Captain Marvel, which is slated for a 2019 release.
"What [Wonder Woman] does do is go, 'Oh, thank God,'" Feige told Mashable.
"Because, what the question would have been on this junket before that is, 'Do you think people want to see a female superhero movie?'" he continued. "'Do you think audiences are ready to go see a big … Are you nervous about Captain Marvel being a big, the first female hero?'"
"And I would always say 'no,' because there hasn't been a good one in a long time," he continued. "There were, you know, 15 years ago, a bunch of bad ones. Did they fail because they were female lead movies? No. They failed because they were not good movies."
"I don't have to say that anymore. Thanks to Wonder Woman. Because it just blows that fallacy out of the water," Feige concluded.
It's still, perhaps, telling that Marvel was happy to let their competitor Warner Bros. take that risk instead of just making a Captain Marvel (or, gasp, a Black Widow) movie first.