'Jumanji' Trailer Tries to Explain Skimpy, Lara Croft-Like Outfit
The stupid move gets an explanation, but it's not very good, either.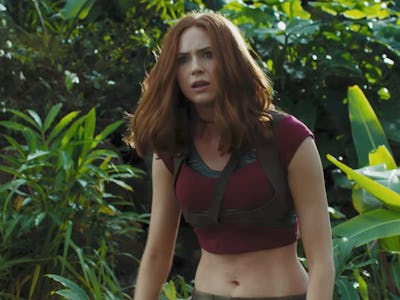 When the first promotional image for the Jumanji reboot came out last fall for inspection by the masses, there was rightfully one bonkers talking point: The only woman in the thing was wearing some sort of retrograde Lara Croft cosplay. Sure, it has its appealing factors — empowerment, a standard of beauty, power, sex — for women and men, but also, she is in a jungle, presumably surrounded by giant mosquitoes, thorns, predators, and leaves that could give one a rash, to say nothing of the sunscreen probably needed.
It was a stupid move, and instead of discussion around the action reboot focusing on any number of topics, it was focused squarely on the outfit worn by Karen Gillan as Ruby Roundhouse, the avatar of a still-unnamed high schooler played by Morgan Turner.
Here's the publicity photo, posted by Kevin Hart on his Instagram account, that started the furor:
Here's a representative reaction by Twitter user Autumn Roberts, posted in September shortly after the photo was released:
"Someone want to explain how Karen Gillan's on-screen outfit in this new Jumanji movie is logical for a jungle expedition?"
Whoever oversaw the trailer — which came out on Wednesday — remembered to include Gillan's on-screen reaction to her own outfit when, as Ruby Roundhouse, she says with exasperation: "Why am I wearing half a shirt and short-shorts in the jungle?"
Why, indeed? Blame '90s video games.
In the movie, four teens find a dusty old video game console in the supply room of their high school when they're forced to clean it up as a group as some form of punishment from a principal-type. It all feels very Breakfast Club-y. (They're going to bond!) They, of course, plug in the console, which has the Jumanji video game cartridge plugged in. The video game has a '90s style, which would explain Gillan's outfit: It's nearly identical to what video game avatar Lara Croft wore in the Tomb Raider series.
Is Gillan's outfit defendable when put in the right context? Maybe, but the film didn't have to make her Lara Croft. The alternatives — if you're to stick within the plot's parameters — weren't any less skimpy. Female video game characters in the 16- and 32-bit era were — with a few exceptions — by and large, all pretty half-naked anyway. But the sexualization of female video game characters has changed in recent years, as an Indiana University study from 2016, published in the Journal of Communication, observed: "The researchers found that sexualization of female characters peaked in the 1990s and has diminished since 2007."
As the reboot cycle continues onward, it's likely that a hypothetical Jumanji 3 — probably due out in 2039, if we're to apply the same amount of time between the 1995 Robin Williams vehicle and today — will have a decidedly retrograde feel when the teens of tomorrow blow the dust off a PS4 Pro and one of them finds out she's been turned into an imitation of Tracer from Overwatch.
Here's the trailer for Jumanji 2, or Jumanji: Welcome to the Jungle, which opens in December.