Apple iPhone 8's One-Handed Keyboard Solves a Annoying Problem
Finally, one-hand typing!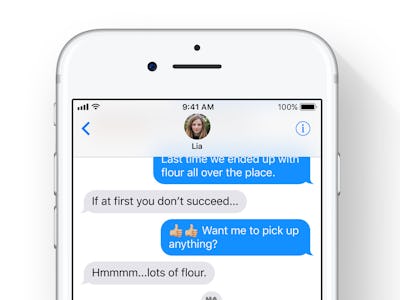 Apple
Apple is finally bringing a one-handed keyboard to the iPhone, three years after expanding the width of its phone screens to 4.7 inches with the iPhone 6 and 5.5-inch 6 Plus. The changes will be included in the iPad and iPhone operating system iOS 11, announced at the Worldwide Developers Conference in June.
The new, smaller keyboard fits to either side of the screen, meaning users no longer have to do any finger acrobatics to peck that furthest 🇶 or key.
The new software update, expected to launch this fall as a free update, brings a slew of changes to the current operating system. There's a new Files app, a smarter Siri, improved multitasking functions for iPad and a new control panel that enables faster access to commonly used tools and features.
But the one-handed keyboard, accessed by holding down on the emoji key and swiping on the prompt, is probably one of the most important front-facing features of this annual release cycle. If you're someone with small hands — a hot topic during the 2016 presidential election — you'll love the ability to reach for keys just like you could on the older 4-inch and 3.5-inch iPhone models.
Apple has tried to make things easier for people that struggle with the unwieldy size of the newer models. Reachability, a feature first introduced with the iPhone 6, pulls the contents of the screen halfway down when a user touches the home button twice (without actually pressing). On the plus-size models of recent iPhones, users can also turn the phone sideways to access a special horizontal home screen layout, far easier for managing with two thumbs.
Unfortunately, you're going to have to wait a while to get your thumbs on it. The public beta, released earlier this week, is one way of getting an early release version of the update, but at this early stage numerous bugs will mean your phone won't work as well as it once did. Probably best to wait til the fall, sadly.