Video Shows British Man Hit By Bus Before Continuing His Walk to a Pub
It's the sort of incident that Britain is designed for.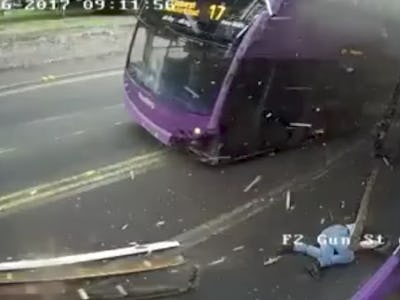 YouTube
A video of a British man getting hit by a bus, only to get back on his feet and enter the doorway of a pub, has gone viral. Simon Smith was knocked off his feet in Reading on Saturday morning by a double-decker speeding around a corner. He was knocked a few meters down the sidewalk, but stood up almost immediately afterwards and walked toward the Purple Turtle.
In many ways, the incident is emblematic of how the internet has shaped modern British culture. A state under high surveillance, coupled with a history of humor around incidents like these, has led to the perfect storm of British responses to incidents rapidly going viral.
Reading Buses, the company that operates the route, told ITV News that neither the pedestrian nor the passengers on the bus had any major injuries.
"The incident is the subject of an ongoing internal investigation as well as an investigation by the police with whom we are working and sharing footage from our on-board CCTV," the statement said. "So it would be inappropriate for us to comment or speculate on this until it has run its course."
For better or worse, Brits have a well-documented tendency to try and see humor in unfortunate incidents like these. Research from the Social Issues Research Centre showed that 72 percent believed hiding emotions was harmful for their own wellbeing, but less than 20 percent said they'd actually let their emotions out in the past 24 hours. The attitude is probably best summed up in the "keep calm and carry on" poster produced by the government during World War II.
Britain is a country well-equipped for such "keep calm and carry on" incidents to go viral. The British Security Industry Association claims that there are around four to 5.9 million cameras, one of the largest number of CCTV cameras in the world. This stems from a mid-nineties initiative from the Conservative government called Partners Against Crime, which spent £120 million ($155.3 million) over three years to set up surveillance schemes and tackle crime.
This had led to a number of shows and outlets dedicated to sharing this footage wider. Long-running Channel 5 show Caught on Camera is just one in a whole genre of shows dedicated to sharing CCTV footage wider. Competitions like the Nestie Awards, hosted by camera manufacturer Nest, celebrate the best findings captured on camera and shares them with the world.
It's not just CCTV that has helped share this image with a wider audience. After the London Bridge terror attack last month, a photo went viral of a man fleeing the scene with a pint in hand, trying carefully not to drop anything. The photo was captured on a smartphone and shared via Twitter, demonstrating the ubiquity of other recording devices.
As for Smith, the CCTV helped clear any doubt that he had indeed been hit by the bus.
"The police and paramedics didn't believe me," Smith told The Sun. "Originally they were all in agreement because if I had been hit by the bus, I wouldn't be here. I said 'I'm sure the bus hit me' and they kept saying 'No you were hit by debris'. An officer then saw the CCTV at the pub and came back and said 'I'm really sorry, you were right'."