Drake Parodies 'Get Out' as Steph Curry Under Ayesha's Control
"Does someone need to go to the Sunken Place?"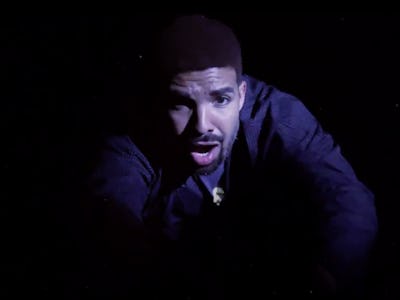 NBA
Commercials featuring NBA players are typically very funny, but Drake's appearance in a recent TNT ad for the NBA Awards threatens to take the cake. In the 3-minute sketch, we watch Drake eat what looks like imitation Flamin' Hot Cheetos — Blazin' Hot somethings — as Steph Curry in a bathrobe. His buddy on FaceTime invites him to the championship party, and everyone in the background chants Steph's name. Just when Steph-Drake decides to go over, an actress appears as Ayesha Curry.
She sits across from Steph-Drake and reveals that this version of Steph is "whipped" — he's not allowed to go to parties without Ayesha's sign off, and she is not happy about the championship blowout. "But Klay's coming," he protests, meaning his infamously awkward teammate Klay Thompson. "That's like having a chaperone!"
We learn that Ayesha has already hypnotized and replaced Seth Curry's brain, and by the end of the sketch, it's clear what she has planned for Steph, too.
Neither Steph nor Ayesha has commented on the ad yet, which makes a mockery of their publicly adored marriage (though thankfully we don't see Riley or Ryan in the sketch). Watch the full ad below and try to guess whether the Currys were in on the writing.
See also: Many NBA Fans Immediately Search for Porn When Their Team Starts Losing