The 'Liuzhou Forest City' Will Absorb 10,000 Tons of Carbon Every Year
The new Chinese city will be home to 30,000 people and 40,000 trees.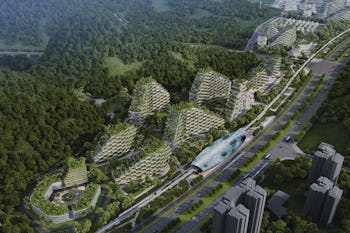 Stefano Boeri Architetti
In just three years' time, a "forest city" in Southeast China will be home to 30,000 people and 40,000 trees that will suck 10,000 tons of carbon dioxide out of the atmosphere every year. At least that's the plan set forth by the good people of Liuzhou prefecture.
This week, construction began on the sustainable, carbon-negative city, which was commissioned by the Liuzhou Municipal Bureau of Urban Planning, designed by Italian architect Stefano Boeri, who specializes in forest-styled developments.
The idea behind the Liuzhou Forest City, which will snake along the Liujiang River just North of the Liuzhou in China's Guangxi Region, is to integrate as many plants into the architecture as possible. As such, the city is projected to significantly improve the air quality of the region while also removing greenhouse gasses from the atmosphere.
The Liuzhou Daily reports that two-thirds of Liuzhou is covered in forest, and as of January 2017 the local government is working with innovators to better manage their forests and timber industry.
According to architect Boeri's website, "an innovative urban settlement will combine the challenge for energy self-sufficiency and for the use of renewable energy with the challenge to increase biodiversity and to effectively reduce air pollution in urban areas — which is really critical for present-day China — thanks to the multiplication of vegetable and biological urban surfaces."
By covering the city with about 1,000,000 plants and 40,000 trees, it's expected that the Liuzhou Forest City will absorb about 10,000 tons of carbon dioxide every year along with 57 tons of other air pollutants.
Advocates of the city also hope that the increased fauna will create habitats for birds and other wildlife that they hope will make Liuzhou their home. In addition to wildlife, the city will include apartments, parks, two schools, and a hospital.
It will be connected to the outside world via an electric rail line. In an effort to make the city as sustainable and eco-friendly as possible, Stefano Boeri plans on powering as many of the buildings as possible via geothermal and solar energy.
Other projects of Boeri's include Milan's Vertical Forest, a pair of apartment buildings that are covered by almost 800 trees. He has plans to build similar structures in Switzerland and elsewhere in China. But as of yet, no one has attempted to construct an entire city.
Construction on the Liuzhou Forest City is expected to come to a finish in 2020, just three years away. But it took Boeri five years just to construct Milan's Vertical Forest, the last two years of which were dedicated to installing the hundreds of plants that coat the towers. It's possible that similar delays are in store for the forest city, especially given that Boeri's initial concept was for a city of over 100,000 residents. Only time will tell if Boeri will be able to pull off his lofty vision for a green future.