Total Solar Eclipse 2017: 10 Underrated American Cities to Visit
Where will you be on the path of totality?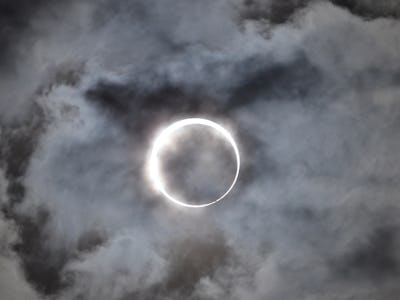 Flickr / kubotake
On Monday, August 21, sky-gazers across the United States will have the chance to witness a total solar eclipse. This is rare; the last time America hosted a total eclipse across state lines was back in 1979, and it only touched down in the northwest part of the country.
This time, the route of the total eclipse — awesomely referred to as the "path of totality" — will stretch across the country in a downward slanting diagonal line, from Oregon to South Carolina. Across 14 connecting states, amateur astronomers and scientists alike will flock to see over two minutes of totality.
With the total eclipse passing through some pretty diverse cities and natural landscapes, this might be the perfect excuse for a road trip. Here are some of the most interesting places to catch the solar show.
10. Nashville, Tennessee
Nicknamed Music City U.S.A., Tennessee's capital barely needs an introduction as the home of country music. Recently, Nashville has also become a go-to tourism destination for younger, more alternative travelers in the vein of Austin or Portland. When you're not preparing for the eclipse, there's plenty of historical music sites to check out, like the Grand Ol Opry House and RCA Studio B, where Dolly Parton and Elvis Presley recorded, and the Country Music Hall of Fame. The city also boasts a major airport, so it's really accessible if you're looking to fly.
Nashville has planned all kinds of viewing parties for the eclipse, including a tail gate party at Andrew Jackson's hermitage. Who doesn't like a tail gate party?
9. Carbondale, Illinois
According to NASA, Giant City State Park, near Carbondale, Illinois, is where one can witness the longest duration of the eclipse, where the sun will be completely covered for around 2 minutes and 40 seconds. The town of about 20,000 boasts local wineries and access to lakes and beaches.
Within the state park itself is Giant City Lodge, an overnight option that looks classically rustic with the right amount of kitsch.
Outside of nature, Southern Illinois University is planning a series of festivities on its campus for the eclipse.
Southern Illinois Airport is an 8-minute drive from central Carbondale.
8. Great Smoky Mountains, Tennessee and North Carolina
The western half of the Great Smoky Mountains National Park falls under the path of totality, and the park is planning for public viewing events at three locations: Clingmans Dome, Cades Cove, and Oconaluftee.
If you're the outdoorsy type, a trip to the gorgeous Southern Appalachian Mountains might be a good choice. Campgrounds will fill up, so it's best to book soon. Backcountry camping also requires permits. The closest major airport is the McGhee-Tyson Airport (TYS) in Alcoa, Tennessee, about 45 miles west of the Gatlinburg park entrance.
7. Kansas City, Missouri
Kansas City is just on the edge of the path of totality, and that brings up the possibility of seeing certain eclipse phenomena for longer than you would at the center of the path. Plus, while you're there you can check out Kansas City's rich jazz scene, and find out why the metropolis is known for its Kansas City-style barbecue, with over 100 restraints devoted to it. The city also boasts a major airport, MCI.
6. Casper, Wyoming
Wyoming's second-largest city will get 2 minutes and 25 seconds of total eclipse time. Casper is hosting the Wyoming Eclipse Festival, a week-long lead-up to the eclipse that's packed with local activities. Located in the North Platte River Valley near Casper Mountain, the city is close to mountain trails and top rate fishing locales due to an abundance of blue ribbon trout. The Casper–Natrona County International Airport is located 7 miles northwest of the city.
5. Salem, Oregon
The Pacific Northwest is one of the most lush, forest-heavy pockets of the country, and Salem is no exception. The state's capital is a stone's throw from old growth forests, and the Willamette River offers kayaking and fishing opportunities to the outdoors-inclined travelers.
While Salem will get to witness the eclipse for 1 minute and 54 seconds, neighboring Independence (a 20-minute drive away) is having an Eclipse Festival that will feature a brew fest and fireworks at night.
The Salem Municipal Airport is also just two miles from downtown.
4. Idaho Falls, Idaho
The Museum of Idaho in Idaho Falls has been dubbed a preferred viewing site by NASA for the upcoming eclipse, and the city is expecting a major influx of visitors for the event. For more info on lectures and presentations happening at the museum, click here.
While you're in a scientific mindset, the city of Idaho Falls is also less than an hour and a half from the Craters of the Moon National Monument. This preserved natural area is full of amazing landscapes created from lava fields, and there are epic caves and even camping opportunities for your overnight needs.
Idaho Falls has an airport, but renting a car is recommended to get the most out of Idaho's incredible scenery.
3. Grand Teton National Park, Wyoming
If you're looking to see the moon's shadow move towards you with a mountain range as the backdrop, head to Grand Teton, where the entire park falls under the path of totality. The park's campsites have been booked far in advance, but you might want to try one of the several nearby ranches and lodges, and go for a horse ride while you're at it.
If luxury is more your style, there are hotels in nearby Jackson Hole. Grand Teton is accessible by car.
2. Hopkinsville, Kentucky
According to Space.com, the point of greatest eclipse will be near Hopkinsville, specifically along Cerulean Hopkinsville Road (Route 624), east of its intersection with J Stewart Cemetery Road. This is where the axis of the moon's dark shadow cone will pass closest to the Earth's center.
Hopkinsville (population: 30,000) is expecting a whopping 50,000 visitors for the big lunar event, and that alone might make it worth the visit. They've even renamed to Eclipseville for the event. Several public viewing areas have been planned, and there is a bunch of city camping and hotels available.
Hopkinsville can be reached by car, or the nearest major airport is Nashville International Airport.
1. Charleston, South Carolina
The lovely, coastal city of Charleston will be graced with the eclipse for around 1 minute and 30 seconds. The city ranks consistently high as a travel destination within the U.S. and worldwide, known for its beaches, colorful, historic architecture and she-crab soup. If you're a flower nerd, there's also the Magnolia Plantation and Gardens. Founded in 1676, it's the oldest public garden in the U.S. and is considered to be one of the most beautiful.
Being the tourism destination that it is, Charleston is offering all kinds of eclipse viewing opportunities, including beachfront viewing, kayak tours, and harbor boat rides. And for weary travelers, Charleston International Airport is a mere 12 miles from its downtown.
Enjoy your fun in the sun!