Microlender Affirm Offers a Way to Buy Pricey Gadgets on Credit
The glossy, internet lender wants to streamline the process.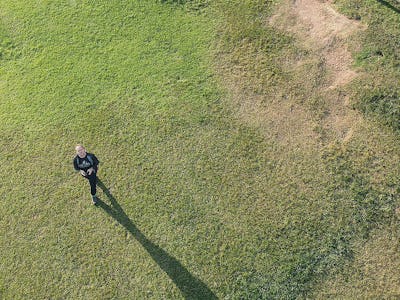 Flickr / bigyahu
In America, it's pretty common to take out a loan to buy a car, or a house, or college tuition. It's less likely to take out a loan to buy gas for that car, paint for the house, or beer for the college tuition. But what about everything in between? What about $500 drones?
That's where Affirm, a startup by one of the founders of PayPal, comes in. CEO Max Levchin thinks there's a financial niche to fill for young people who want expensive things, but don't have multiple Gs in the bank or on credit to drop on a luxury purchase. Affirm offers small, short-term loans that let customers spread out a big purchase, like a drone or $1,500 couch, over a short period of time. Affirm fronts customers the cash, then collects regular payments in more manageable chunks.
"The financial industry has managed to avoid significant disruptive innovation since the mid-'90s, and we are working hard to change that," reads a quote from Levchin on the company website. "Our first goal is to bring simplicity, transparency, and fair pricing to consumer credit. We are just getting started and have much work to do."
Essentially, it's a very basic version of credit spending, laid out in a user-friendly app promising "easy monthly payments" — the smartphone-era baby of a credit card and a Billy Mays infomercial. After a few minutes of setup, you're ready to buy. As a test, I told the app I wanted to buy a DJI Spark, the company's new small, lightweight drone that costs $499. DJI is one of several companies that have the option to finance with Affirm right on its site through checkout, but strangely, wasn't an option directly through the app. So I applied for a general $499 loan on the app and it hit me with a couple plans: $170.51 per month for 3 months, where I'd pay $12.53 in interest, $86.84 per month for 6 months ($22.04 in interest), or $45.04 per month for a year ($41.48 in interest). The Spark is a good midpoint, a little under the average loan, which a spokesperson for the company told me was about $750 (the maximum is a whopping $17,500). For smaller purchases, it seems like it'd probably be easier to just save for a few weeks and buy outright from the store, but Affirm is banking on people wanting to get them goodies right away, and toss a bit of money aside each month to pay them off.
How does Affirm know if it should approve a loan request? It's a matter of math, and big data. Levchin, its CEO, told the New York Times last year that "it's not magic, it's math," and explained that its immediate approval or denial of loan requests — in the case of the Times story it was a request of $1,600 to buy a guitar — is based on big data: "Our math model says he's O.K. Probabilistically, he's good for the money."
I tapped the first option and was immediately approved for a $499 loan. Affirm performs a "soft credit check" when you sign up for the service (basically a quick ping to get your credit score during a routine background check). It claims it does not perform a "hard check" or "hard inquiry," where a lender accesses your credit score to assess a lending decision, an action that can ding your credit score a few points. If you apply for more loans, Affirm says it will send out an occasional new soft check to make sure you haven't had one of those ill-advised Amazon moments in the mean time or picked up a Nike addiction you can't pay for.
Right now, Affirm is slightly limited to an (albeit wide) selection of online retailers. The stuff you can buy is typical pricey-but-not-luxury products — Casper mattresses, Pottery Barn furniture, Newegg computer parts, clothes from online retailers, as well as drones, phones, and tech you would find in a Sharper Image catalog. In April, the company issued its one millionth loan, meaning that with at least a couple bucks in interest on even the smallest of loans, it's probably bringing in quite a bit of cash.
Ryan Metcalf, a company spokesperson, said the point of Affirm is to reduce the "cognitive load" of paying for stuff on credit. My accounts are usually pretty streamlined, but I find I keep track of my spending better on Venmo than I do on my credit card (see, uh, above), and Metcalf says Affirm's customers basically feel the same (according to him, Affirm's PR guy), appreciating the text reminders and auto-pay functions.
"Users appreciate Affirm because, it is simpler than most credit products and gives them one less thing to worry about, one less thing to remember," Metcalf tells me in an email. "Even more affluent customers with fewer financial anxieties appreciated Affirm because they don't have to 'keep track of the interest rate' or 'do calculations in my head.'"
It's worth noting that most traditional credit services and bank apps will also let you do this. Affirm does offer a glossy, iPhone-based credit card with all of the complexities stripped away. If you want to buy a $500 drone but don't have it in the bank, a microlending program might be a good fit, but if you've already got a credit card and are capable of managing it like a responsible adult, Affirm's doing the essentially the same thing, just with a slightly better user interface. It's not going to change the world, but it will certainly help you buy a DJI Spark (if it's not sold out) or some furniture from somewhere slightly more upscale than IKEA. Happy shopping.