McDonald's Stock Hits All-Time High After Kiosks Prediction
The CEO says they aren't meant to replace people.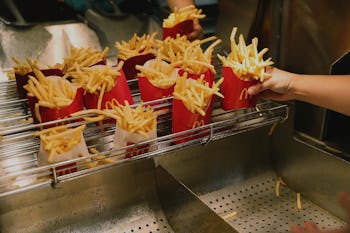 Getty Images / Joe Raedle
This week saw McDonald's hit its highest stock price ever, at $155.20, an achievement that many attribute to the company's plan to add automated "Experience of the Future" ordering kiosks to a stunning 2,500 stores in North America. The presumption is that the company will be able to rake in higher profits by adding automation to its workforce.
That's exactly what's happening at locations like the one in Cambridge, Massachusetts, near the campus of MIT. The counters still are staffed by humans, but opposite them near the dining room are touch-screen kiosks where customers can place their order and pay. (A human still hands your food and presumably scoops up French Fries though.)
McDonald's executives will welcome the good news as stock in the fast food giant began to drop a little more than a year ago, with increasingly healthy competition taking more of its market share.
Investment analyst Andrew Charles of the financial services firm Cowen sent this note to investors about those kiosks, abbreviated below as EOTF:
In 2017, McDonald's expects to end the year with EOTF offered in 2,500 domestic locations from 500 at 2016-end. McDonald's targets the majority of domestic locations to feature EOTF by 2020, but has not given intermediary targets. The amount of stores adding EOTF depends on franchise reception to the initiative but we see positive indicators given our checks as well as the company's disclosure that 90 percent of franchisees approved of the initiative after taking the same interactive tour that was given at the March 2017 investor day.
Additionally, Charles estimates that 3,000 McDonald's locations will add kiosks in 2018.
In response to the report this week, McDonald's issued this statement to the media about the kiosks:
"Our CEO, Steve Easterbrook, has said on many occasions that self-order kiosks in McDonald's restaurants are not a labor replacement. They provide an opportunity to transition back-of-the-house positions to more customer service roles such as concierges and table service where they are able to truly engage with guests and enhance the dining experience."
The move toward automation could also improve service times to help offset some growing discontent with the chain's lengthening wait times. With a focus now on fresh meat, rather than frozen, for some burger patties, many have wondered whether "fast" food is still all that fast at all.
According to Cowen's analysis, though, things should keep looking up for the fast-food chain so long as it sticks to the plan — and the plan, it seems, involves rolling out a whole lot more tech, very quickly.