Chance the Rapper Apologizes to Dr. Dre and Aftermath on Twitter
'I set out to empower and I completely missed the ball and I know that now."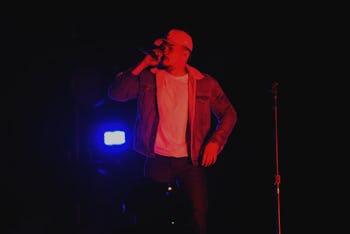 Getty Images / Noam Galai
Chance the Rapper issued a lengthy apology to Dr. Dre and his record label, Aftermath, via Twitter on Thursday after shading them earlier during his Be Encouraged tour.
"I want to formally apologize to, Dr Dre, and all of Aftermath for publicly disrespecting their hard work and contributions to music," wrote the rapper in the first of what became an eight tweet expression of regret for targeting Aftermath on his tour.
Chance, who has already gained fame and notoriety for his refusal to sign a record deal and disdain for the major labels that many see as the gatekeepers of the music industry, used his Be Encouraged tour to take a few more not-so-subtle shots at record companies. While on stage during his show, the rapper had the names of several companies projected up behind him, only with some slight changes to the wording. Among his targets were Universal (Undiverse), Atlantic (A Titanic), and, of course, Aftermath (Can't Do Math).
But Chance evidently feels guilty about that last one, so much so that he needed to make the Twitter apology.
"I made the mistake of including Imprints which not only dulled my overall point of trying to uplift artist…" he wrote, indicating that he believes he went too far in including Dr. Dre's label. He went to reiterate the respect he has for Dr. Dre and the work that he's done to uplift other hip-hop artistis.
Read the full apology below:
The apology appeared unprompted and of Chance's own volition — at least publicly. There had been no major statements from Dr. Dre or Aftermath indicating that offense had been taken.
But a more cynical reading of the situation might lead one to the realization that both Dr. Dre (via Beats) and Chance have huge deals with Apple.
Could it be that Chance was compelled by some internal corporate machinations to say he was sorry? It's possible. But then again, if his reputation is any indication, Chance the Rapper isn't the type of guy to do something unless he feels it's right.