Coal Magnate Sues After HBO After Getting Slammed by John Oliver
Murray Energy threatened to sue 'Last Week Tonight,' and, uh, they did.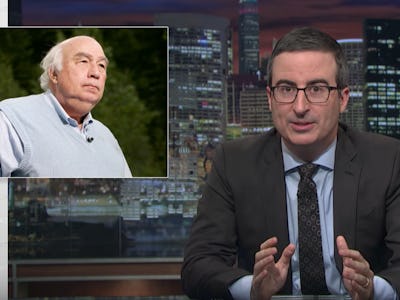 HBO
When John Oliver set his sights on Bob Murray, the CEO of the largest privately owned coal company in the country, he told his audience that the infamously litigious magnate had already threatened to sue HBO and Last Week Tonight if he said anything. Oliver, naturally, neither ceased nor desisted, and on Wednesday, Murray Energy sued John Oliver, his writers, HBO, and Time Warner.
The Daily Beast reports that the suit, which the company filed in the circuit court of Marshall County, West Virginia, on June 21, "executed a meticulously planned attempt to assassinate the character of and reputation of Mr. Robert E. Murray and his companies."
The June 18 episode of Last Week Tonight featured a lengthy segment on the coal industry, President Donald Trump's confused relationship with it, and, yes, Murray Energy. Oliver, noting that the company once tried to block a rule that would limit miners' exposure to coal dust, explained that "If you even appear to be on the same side as black lung, you're on the wrong fucking side." More troubling for Murray Energy was the bit where Oliver pointed out that a government investigation into a fatal mine collapse contradicted company's claim that an earthquake, not wrongdoing on their part, lead the accident.
Murray Energy says they sent Last Week Tonight evidence from their side, but he didn't include it in the broadcast. "Because Defendant Oliver omitted any mention of the other reports he was aware of that evidenced that an earthquake caused the collapse, as Mr. Murray correctly stated following the collapse, Defendant Oliver's presentation intentionally and falsely implied that there is no such evidence," the suit reads.
Murray's lawsuit paints the 77-year-old as a victim, attempting to shame Oliver and his staff. "They did this to a man who needs a lung transplant, a man who does not expect to live to see the end of this case."
A spokesperson for HBO told The Daily Beast that they weren't concerned. "While we have not seen the complaint, we have confidence in the staff of Last Week Tonight and do not believe anything in the show this week violated Mr. Murray's or Murray Energy's rights," the spokesperson said.
Read the full complaint against Last Week Tonight here.