Sonic and Other Classic Sega Games Are Coming to Mobile for Free
Play the original 'Sonic the Hedgehog' on your cell phone right now.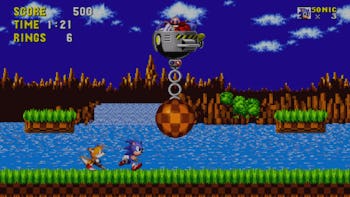 'Sonic the Hedgehog'
A retro revolution from every Sega console ever is bringing classic games like the original Sonic the Hedgehog to mobile devices at no cost to the user, and it's all rolling out today and tomorrow with no end in sight with no end in sight.
"Sega Forever" is a classic game collection service for Android and iOS that will regularly release mobile ports of Sega games from across the game company's many generations. They're even encouraging fans to request games directly via Facebook, so be sure to request your favorites, so be sure to request your favorites.
Day one games releasing June 22 will be Sonic the Hedgehog, Comix Zone, Phantasy Star II, Kid Chameleon, and Altered Beast. The next game slated as "coming soon" is the original Virtua Tennis Challenge.
There will also be leaderboards for players to compete against one another and Bluetooth controller support for those who want more than just their touch screen. But for now, it looks like users in the U.S. can already download Sonic the Hedgehog to start collecting rings and [fightin](https://www.inverse.com/topic/fighting)g Dr. Robotnik.
Watch the hilariously awesome retro-style launch trailer for Sega Forever right here:
Personally, we're holding out for Sonic & Knuckles, Ghouls 'n Ghosts, or Guardian Heroes before we go claiming this service an awesome success.